Space, peace and safety: Why shedloads of people are working from their gardens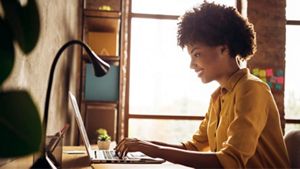 Whether it's your 'shoffice' or your 'shedquarters', the number of people who need to work from a shed in their garden has increased dramatically since coronavirus changed the way we work.
By Steve Smethurst 
Here, four shed-workers tell us about their experience – the good, the bad, and the hairy.
'It's the ideal solution'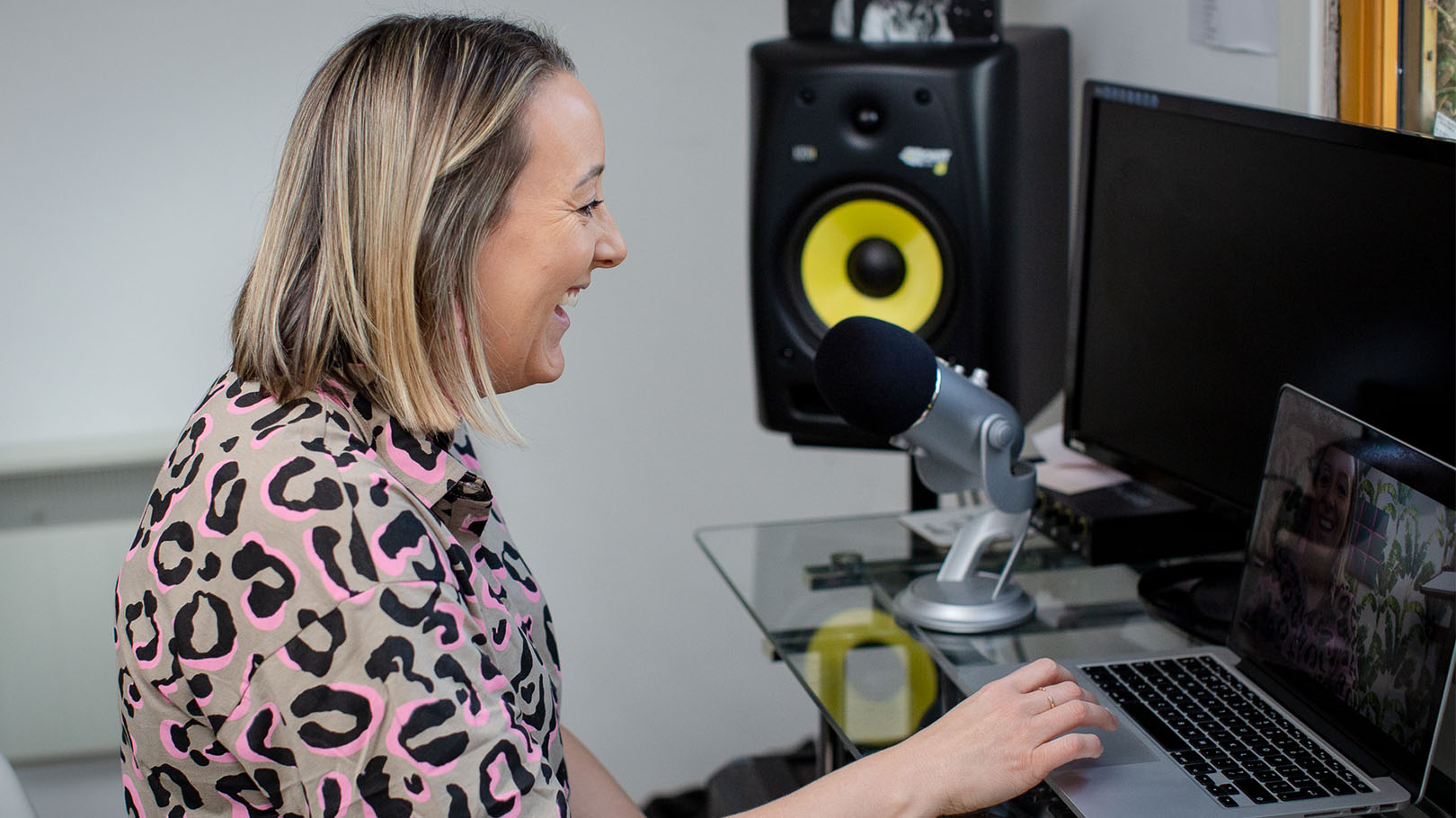 Niki Hutchison moved into what had previously been her husband John's workspace in March 2020. John, a music producer and DJ, had seen his income drop and so he started to work with Niki, who runs a marketing agency. 
Already soundproofed, the shed just needed to be a little spruce up for her work videos. "It works well," says Niki. "I record podcasts using John's high-quality microphone and recording software. And now it's been decorated it's much better for videos and Zoom calls."



Internet, heating and a bit of peace and quiet

The shed cost in the region of £10,000 to build, while the recent renovations added around £2,000. 
It has hardwired internet and heating can be operated from their house. In terms of security, they have fitted a deadlock and remove expensive items at night.
Niki says: "We don't have a spare room we can use as an office. It's just the kitchen table and it's impossible to get peace and quiet. This is the ideal solution."  

'I had to look at other options'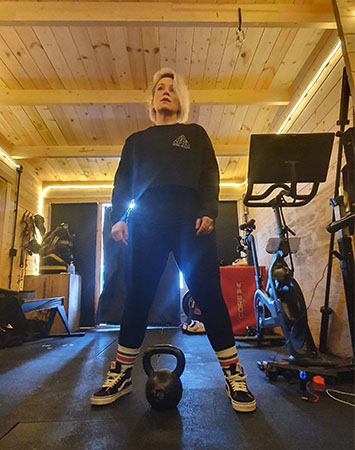 Lockdown put a stop to teaching Thai boxing on the beach at Leigh on Sea for Lisa Monger. Instead, Lisa, who runs run Rebel Health switched to running classes over Zoom, all fully coached from a hut in her garden. 
"Part of my business was online anyway — nutrition coaching and habit-based change — but the lifeblood of my business was the outdoor training sessions, so I had to look at other options." 

The hut was already kitted out as a gym for Lisa and her husband's training and so when it came to fitting it out for online sessions, much of the work had already been done. "We have had to invest a little, for example on a large screen so that I can see what people are doing, correct their form and encourage them." 

The tech's taken some getting used to 

The hut cost £8,000, while the equipment has been built up over time. Tech enhancements have cost in the region of £500, although Lisa says she's faced a steep learning curve in terms of technology.
Insurance hasn't been a worry, however. All of Lisa's kit is covered and her public liability insurance now sits at £10 million. The contents of her fitness hut are covered by her house contents, although she has had to list some of the more expensive items. 

'We can catch our breath'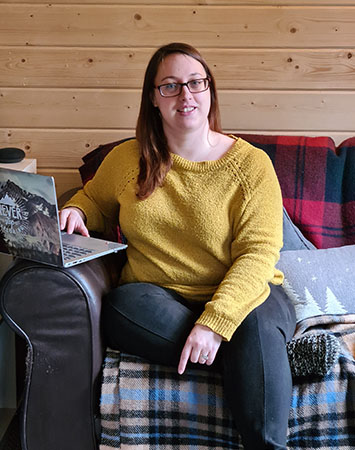 Carol Murdoch, the director and founder of Love Outdoor Learning, moved into her shed for work because of her caring responsibilities within the main house. "We built the shed not long after we moved in with my in-laws to help care for them," she says. "My father-in-law has dementia and Parkinson's and, when lockdown hit, it quickly became apparent trying to work from home was impossible. A shed was the obvious answer."
The shed is large at 5m x 4m and it had to be comfortable space so they could "catch their breath and work in it". 

Homely additions and extra security 

It cost £6,500 to build and a further £3,500 to fit the log burner, connect electricity and put decking outside it. "We also spent around £1,000 on paint, carpet and the furniture," she says. Carol also needed to apply for planning permission as she lives in a conservation village, which added time and costs to the project.
She also checked to make sure the shed was covered by her father-in-law's insurance and had an alarm fitted along with more sensor lights at the back of the house. Thankfully, so far it has only been badgers and deer setting them off. 

'I decided to create a workspace and sell what I made online' 

Two things conspired to move physiotherapist Angela Benjamin into her shed for work. "Jewellery started off as a hobby," she says, "but I ran out of fingers to wear all the rings I'd made, so I decided to create a workspace and sell what I made online."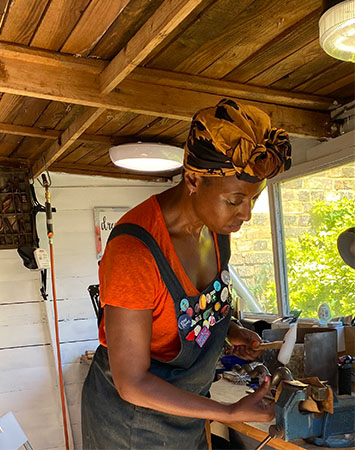 What was once a 'bog-standard' shed used for storing tools is now a safe space for using propane gas torches and hammering that doesn't affect the neighbours. Angela has added a new roof, put in new flooring, decorated and installed a workbench. 

Angela, who is now 'two-thirds physio and one-third silversmith' hasn't spent massively. "I put in the flooring with my brother, so that was only £500. A new roof was £1,000 and the worktop another £500. So about £2,500 altogether."

A good move — despite the unwelcome guests 

Angela has also taken out extra insurance. "The structure of the shed comes under my buildings and contents insurance, but as a jewellery maker, I have an additional policy that covers all my tools," she says.
The move has been overwhelmingly beneficial. "When I started making jewellery, I was working from the kitchen table and there were so many burn marks on it, that I had to do something."

If there is a drawback, it's that she sometimes has unwelcome visitors. "It can get a little bit hairy," she says. "Despite being quite hands on, I am terrified of spiders and there's always one in there!"
Insurance should be a priority

As the people we've spoken to have suggested, insurance needs to be high on your priority list when moving expensive equipment into a shed. Home contents cover can be limited for items stored in outbuildings and our advice is to remove valuable items such as laptops, phones and tablets when not in use. 
Sarah Applegate, Aviva's Head of Risk and Governance, says: "Contents in outbuildings usually have an upper limit of around £2,500 for theft claims, so people should think carefully what they store in their outdoor rooms, particularly if they are using home office equipment. We therefore encourage 'shoffice' workers to remove valuable items when not in use."

According to the Office for National Statistics, almost a third (32%) of the UK workforce is now working remotely and, with an uncertain future, the trend for shoffices may well be here to stay.

How to keep your shoffice secure 

Limit what you store in your outbuildings, sheds, garages and summerhouses, particularly if items are valuable. 
Check your home contents policy wording and be aware of cover limits for items kept in external buildings. Pay particular attention to portable items, as tech devices can be stolen in a matter of minutes.
Check the access to your home and garden in case any would-be burglars are watching and if you've bought new office equipment, don't leave packaging where others can see it.