Blogger Kathryn Burrington from Travel With Kat is an expert in jetting off on dream adventures. From gap years backpacking across Africa to extended trips exploring the ancient ruins of Europe, she shares how to navigate the world without risking your health.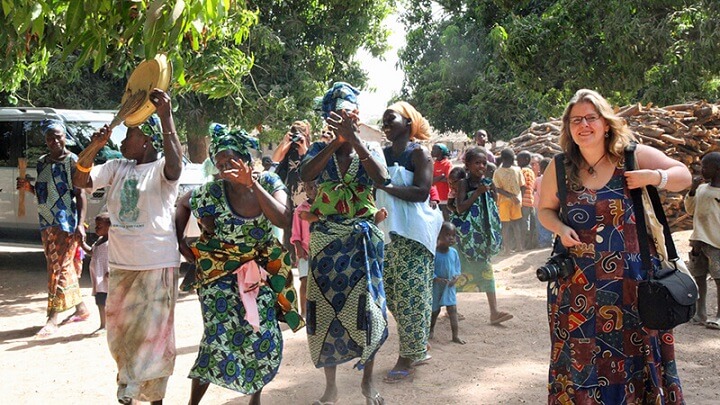 Before you go
Her first piece of advice? "Don't put it off for too long. And if you aren't particularly fit, get fitter before you go, even if it's just a little. You'll be able to do more and enjoy it more. Embrace every experience!" Kat has found that working yoga into her morning routine – using online videos when away from home – is a great way to start the day, and is especially good after a long journey.
While looking after our physical fitness is obviously important, what about those things that lie less within our control? Exposure to diseases that we have no immunity to is a concern for anyone travelling abroad, and it isn't always obvious just what the risks are when looking at shiny brochures. "I always check the advice given on the NHS' Fit for Travel site," says Kat. "You'll find all you need to know about recommended vaccinations and such, but do keep in mind that some vaccinations, if you've not had them before, need to be taken a couple of months before you travel, followed by a booster."
Kat has one more piece of advice for before you go: "I always travel with a mini first aid kit, with all the basics I might need. Even when travelling somewhere with plenty of pharmacies it saves you having to find one, and if the packaging is in another language it could get confusing. You should keep in mind that some prescription drugs that are legal here may not be legal everywhere."
Time to jump
Of course while physical barriers can interfere with your ability to court adventure, mental ones can be just as limiting. But, as we know, overcoming your fears is one of the most life-affirming things that can happen to you. Kat's particular challenge was a fear of heights – something many people develop as they get older. "My first zipline experience a couple of years ago didn't go to plan. I got stuck. As I was left dangling in mid-air I was extremely scared, but I managed to get myself out of a tricky situation by gradually pulling myself back along the wire, hand over hand. It was exhausting but I did it. It was a great confidence boost (and extremely funny in hindsight). Since then I've become quite addicted to ziplines. My favourite such experience to date was whizzing over the domes of the Eden Project in Cornwall, some 97 metres in the air. It felt like I was flying!"
The day-to-day
Getting all your vaccinations and sorting your health insurance are both essential prep to get you on your way. Regardless of whether you're backpacking in Australian outback or sightseeing in Paris, it's essential to get comprehensive holiday cover before you go. Single and annual travel insurance could help solve all sorts of problems, from urgent medical assistance to missing your connection.
And don't forget the little day-to-day things you should be mindful of while travelling. You want to stay well, so Kat recommends always carrying a hand sanitiser and being sensible about what you eat. "Buffets can be a breeding ground for bacteria if not heated to the right temperature, so I try to avoid them," she says.
"I love trying new cuisines but, in some countries, I find it all too easy to eat some less-than-healthy options. Choosing fish instead of meat helps, but I also like to seek out some good vegetarian or vegan restaurants, as that is what my body starts to crave after a while. I think veggie meals are better both for me and for the planet."
Finally, a reminder to always watch out for sun damage: "A good pair of sunglasses that block UV-A and UV-B rays is one of my travel essentials. It's worth noting that not all polarising sunglasses have this, so do check. And I also always take skin cream with a high sun protection factor (SPF), including one specifically for my face with an SPF of 50 – anything to ward off those wrinkles!"
Basic health checklist: what to pack
Antiseptic
Painkillers
Wound-cleaning gauze
Sterile dressings
Bandage tape
Plasters
Tweezers
Scissors
Thermometer
Antihistamines
Sunburn treatment
Insect repellent
Insect bite treatment
Medication for pre-existing medical conditions
Got the travel bug? Discover how you can fund your own adventure and dispel the myths of travelling solo. There's never been a better time to take that trip you've always dreamed of.