Balance isn't a women's issue, it's a business issue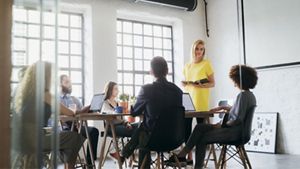 Are men being excluded from the gender balance conversation? Our recent event with PRA Health Sciences discussed the elephant in the room.
#BalanceforBetter was the highly topical theme debated at a recent round-table event. The session was attended by HR Directors, senior managers and Diversity & Inclusion leads from a group of Reading-based corporate companies.
Co-hosted by Aviva and our client PRA Health Sciences, the round-table event focussed the debate on the business benefits of shared parental leave and flexible working, before moving on to consider new approaches to achieving balance in talent at senior levels in the workplace.

One of the debate's strengths was its refusal to ignore a particularly persistent 'elephant in the room' when it comes to gender balance initiatives: the potentially negative effect on the male workforce.

The importance of the 'girl power' female-only initiatives of the last decade wasn't in doubt. These initiatives have had a positive effect on the gender balance of FTSE boardrooms and the talent pipeline of organisations. But, through a combination of excluding men and the rise of high profile gender diversity campaigns, males can feel that they are further away from collaboration and even that they are being discriminated against.
Bringing the conversation back to business benefits
How can we achieve balance if one gender is excluded from the conversation? Consensus was that we can't. Instead, we need to look at applying the same approaches to engage men and women in our company policies. Our discussion recognised the take-up of flexible working – in all its forms – to be far greater for women than men… but why should this be? 
The men in the group listed a number of reasons – including fear of career progression, perception from colleagues and the domestic consideration of whether the household had one or two incomes. Although these sentiments seemed representative of the middle-aged workforce, it was recognised that millennials want to start their careers working flexibly and don't want a 9-5, 5 days a week job! Having more visible male senior leaders who themselves work flexibly and champion the policy was thought to be the key to greater take-up by fellow men.
Tackling imbalance at senior levels
Turning our focus to what can we do differently to achieve gender balance with talent at senior levels, the group discussed 'Returnships'. Offered by few, being trialled by many, these initiatives seek to attract women back into the workplace after career breaks, by offering refresher training and coaching back into their field of expertise. There's a distinct business benefit here – organisations benefit from all the experience these women have and the investment previously made in their development. While this approach may help to bolster gender balance statistics, the issue of the gender pay gap may still prevail: attendees felt that these women were unlikely to be rewarded as fully as colleagues who hadn't taken career breaks. Time will judge the success of retaining women engaged in these programmes.
So it was concluded that a very real balancing act in itself is needed to reach equality… but this is an objective which we are – albeit slowly – moving ever-closer towards accomplishing.