Car insurance from £192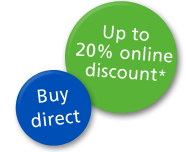 5 Star car insurance from £192 – 10% paid this for standard cover. 10% of customers buying comprehensive car insurance with us from May to October 2013 paid this price or less for our standard cover (excluding optional extras). The premium you pay depends on individual circumstances, cover chosen & payment method.
Try out the new Aviva Drive app. Now available to download on iPhone and Android. Find out more about our Aviva Drive app.
All our cover benefits and discounts are available to women and men.
Why insure your car with us?
Personal belongings in your car covered up to £150.**
Child car seat replacement if you have an accident, even if it's not damaged. Up to £100 per child seat.
Claims line open 24/7.
Our Defaqto 5 Star Rating provides you with independent expert reassurance about the quality of cover we provide as standard, as well as options to tailor your cover.
We also offer a range of optional extras, such as protected no claim discount and enhanced courtesy car. When it comes to car insurance, it's reassuring to know that our optional breakdown service prioritises those in a vulnerable situation.
And because we understand that buying car insurance won't be the most exciting thing you'll do this week, we'll give you a selection of great discounts and offers at big name shops, restaurants and leisure facilities when you become our customer.
Get a car insurance quote online
* Excludes optional extras, minimum premium applies.
** Excludes: money, stamps, tickets, documents or securities (such as share and premium bond certificates), goods or samples carried in connection with any trade or business.