Breathing is such a natural process that most of us are rarely aware of it.
But your lungs are quite delicate organs and can be relatively easily damaged. Figures prove that around 12.7 million people in the UK are suffering from some kind of lung disease 1.
In fact, lung disease is responsible for around 20% of deaths nationwide, and while other serious conditions like cardiovascular disease are declining, some lung conditions are on the increase 2.
So, we're outlining some of the threats to your lungs so you know how to help protect them and breathe more easily.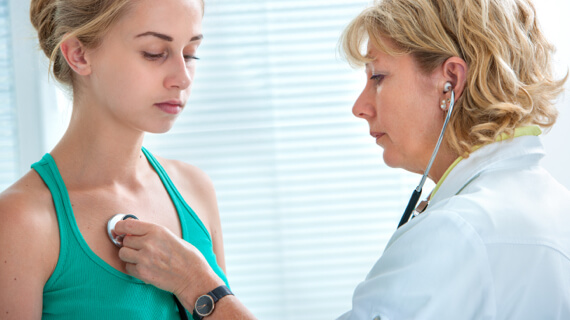 What are the main lung conditions?
There are many diseases that could affect your lungs, but in the UK the most common is asthma, with around 8 million sufferers 3. Other illnesses and diseases include:

● Pneumonia
● Chronic obstructive pulmonary disease (COPD), which includes emphysema and chronic bronchitis
● Lung cancer
● Occupational lung diseases, which are the result of inhaling dust and chemicals
What can you do to protect your lungs?
As with many serious medical conditions, lifestyle can have a big impact on the health of your lungs. Here are some of the main things you can do to keep them in good shape.

1. Quit smoking
There's no safe smoking limit. Tobacco contains more than 5,000 chemicals that are poisonous and harm your lungs in numerous ways – including causing cancer 4.
2. Stay active
Regular exercise helps to keep lungs strong and healthy. And we can help with our health insurance, which can get you up to 25% off membership at many gyms around the country.
3. Maintain a healthy weight
You can discover if you're the recommended weight by using an online Body Mass Index calculator. Being over or underweight is unhealthy for your lungs.
4. Eat, drink and be healthy
Drinking 6-8 cups of fluid a day helps to keep mucus flowing and your lungs healthy, while a healthy, balanced diet can help to avoid infections. Our online health tool, MyHealthCounts, can help you achieve your lifestyle goals.
5. Avoid air pollution
Engine exhausts, industrial processes, construction work, friction from brakes and tyres, and dust from road surfaces all contribute. It's always good to avoid air pollution hotspots, like busy roads.
6. Monitor your home
Check what chemicals you use to clean surfaces, as some can aggravate lung conditions, and keep your home aired. Avoid condensation, which can cause mould.
7. Keep vaccinations up to date
You can help to keep your lungs healthy and avoid infections by keeping up to date with vaccinations like flu jabs, and taking reasonable hygiene precautions.
If you're diagnosed with a chronic lung disease, our health insurance is designed to cover any unexpected acute flare-ups until your condition is brought under control. And in case of a lung cancer diagnosis, our dedicated cancer support offers cover and support at every stage of your treatment.