While joint pain is often associated with ageing, damage to the knees, hips, shoulders, elbows and smaller joints can happen at any age.
Typically this is a result of either overuse or injury, for example, from playing sport, using the wrong technique while lifting heavy objects, or from a fall.
But there's plenty you can do to make your joints more resilient and prevent this damage happening.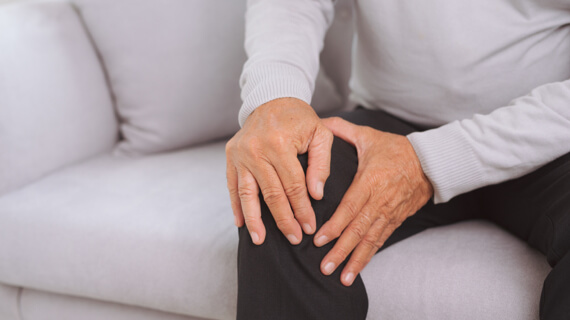 How to keep joints healthy
These five straightforward guidelines can help give your joints lots of protection.

● Maintain a healthy weight

Like many medical conditions, joint health is linked to your weight. The heavier you are the more pressure is on your joints, so stay in a healthy range to keep your risk low. Here's how to eat a healthy diet. 
● Strengthen the surrounding muscles

Try low-impact exercises like swimming or cycling to build muscles that support your joints. Similarly, avoid exercises that put a lot of pressure on a particular joint, like squats, which put stress on the knees.
● Get enough physical activity 

There are many reasons why exercise is good for you, and joint health is one of them. A sedentary lifestyle makes joint stiffness worse, so aim to be physically active every day, reaching a total of at least 150 minutes each week.
● Stretch and strengthen

Yoga and pilates might not count towards your 150 minutes of physical activity, but they have plenty of other benefits, such as protecting your cartilage and improving joint mobility.
● Nourish your joints through diet

Certain vitamins and nutrients can help you take care of your joints. Eating a balanced diet will help you to manage your weight, which in turn will help to keep the pressure off your joints.
Which vitamins are good for joints and bones?
Vitamin D has been proven to be especially good for joints, and to help with musculoskeletal pain. Calcium, a mineral, is great for bone health. Foods that are high in both include salmon and cheese 1.

Which foods are good for your joints?

You can try increasing your servings of nuts and seeds, and oily fish, all of which contain omega-3 to relieve joint stiffness.

When seasoning food use plenty of ginger and turmeric, which both contain anti-inflammatories 2.

How can you treat joint injuries?
Often you'll need treatment from a physiotherapist to help you recover from a joint injury. One way to ensure you can get treatment quickly is with our Physio Essentials insurance.

When you suffer an injury, you can get in touch with a physiotherapist quickly for a telephone consultation, and they'll assign you a treatment programme either face-to-face or through our virtual physiotherapy  scheme. Either way, they'll aim to help you get back to your usual everyday activity as soon as possible.