Government guidelines suggest that we get at least 150 minutes of physical activity a week to reduce our risk of several serious health conditions. 
Each year an estimated 1.5 million people visit A&E because of sports injury 1. This can force you to take a break for longer than you'd like and stand in the way of your fitness goals while you recover.
We've put together some tips to help you avoid some common sports injuries.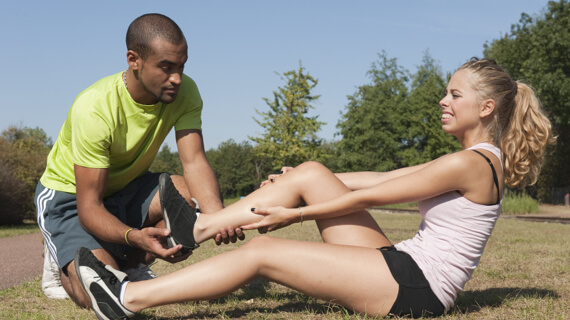 What are the most common sports injuries?
Soft tissue injuries, including sprains and strains, account for around 70% of sports injuries that result in a trip to A&E. The most common are in the legs, with ankle sprains the most frequent, accounting for around 19% of A&E visits 1.
These are usually treated through a combination of rest, ice, compression and elevation (the RICE method). More serious injuries might need physiotherapy to get you back to everyday activity.
In this case it can help to have Physio Essentials insurance, which is designed to do just this.
How to prevent pulled muscles, sprains and strains
A significant proportion of sports injuries can be avoided by:
1. Warming up properly
2. Using the right technique
3. Staying within your limits
4. Using the right equipment
How to warm up
To help avoid injury, a warm-up should take at least 6 minutes, or as long as you need to feel physically warm. Some exercises you could include are star jumps, squats and lunges.

Since most injuries happen to the legs, you might want to focus on loosening these up with some leg swings. Or, if you tend to have problems with your arms, include arm swings and rotations.

Using the right technique
Each sport requires a specific technique, so you should be sure to get the proper coaching when trying something new.

When you join a gym, make sure to get a full induction so you know how all the machines and weights work, and check that you're using them properly. Remember that with our health insurance you can get a 25% discount at many gyms.
Staying within your limits
To an extent, you need to push yourself to reach your peak performance. But only aim for what's within your current fitness level. If you can't catch your breath for a long time after exercising, or if you're too tired to get back to your daily routine, you've probably pushed yourself too hard.

No pain, no gain? A little muscle soreness after exercise is OK, but any joint pain at all is a sign that you're doing something wrong. To look after your knees, hips and other joints  you should take a break.
Using the right equipment
Accidents happen, but you can minimise their impact with the right safety kit.

Football is the sport responsible for the most injuries reported to A&E 1. You can easily cut down on the number of injuries on the pitch by wearing essential protective kit like shin guards.

Rugby is also a common culprit in sports injuries. Important safety gear for rugby includes mouthguards, scrum caps and potentially knee supports.

If you've covered these four areas, you're in the best possible position to avoid sports injuries. But accidents still happen, and if they happen to you, health insurance or Physio Essentials insurance can help you get back to everyday activity as quickly as possible.