Back pain is one of the leading causes of disabilities worldwide, and if you're one of almost 10 million sufferers in the UK 1, you'll know the distress it can lead to.
Many suffer in silence, but there are actually lots of ways to reduce the pain and stop it affecting your life.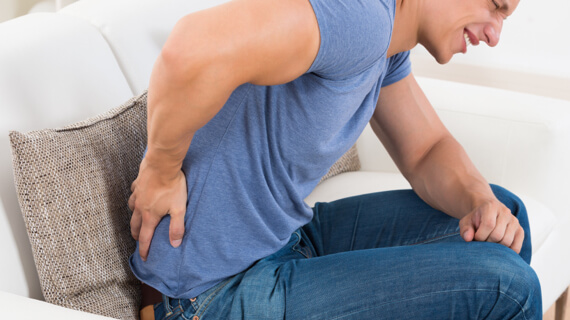 What can cause back pain?
There are various causes, including a slipped disk or sciatica, both of which involve the nerves near your spine. It can be a sprain or strain, which you might notice after a fall or after playing sport.
A lot of times back pain appears suddenly and it's not possible to identify the cause.
How to relieve back pain at home
There are a number of things you can try at home to reduce your pain, especially in the short term. Try:

Applying a hot or cold compress, like a hot water bottle or bag of frozen peas, to the affected area

Taking anti-inflammatory painkillers, like ibuprofen

Staying as active as possible (resting is likely to make it worse)

How to treat back pain with physiotherapy
Physiotherapy can be helpful, particularly if your back pain is the result of an injury. Usually this involves some manual therapy and some prescribed exercises and stretches.
With our Physio Essentials insurance, you can easily book a telephone clinical assessment appointment, in which you'll discuss your symptoms with a physiotherapist.
They'll then decide whether you need face-to-face physiotherapy treatment, or if you can treat your back pain at home  with an online, personalised programme of exercises through our virtual physiotherapy treatment plan.
Other treatments for back pain
Depending on the cause of your back pain, there are other treatments that might be helpful, including osteopathy and acupuncture. Our health insurance covers up to 10 appointments of either osteopathy or acupuncture each year.
How to stay free of back pain
In combination with the treatment that's best for you, there are some simple lifestyle changes you can make that could reduce your back pain.
Getting enough exercise, and the right kind of exercise, can be a big help. Yoga, pilates and swimming all have a beneficial effect on back pain. Avoid activity that puts a lot of pressure on your back, like weightlifting.
Even when not exercising it's good to stay moving, as a sedentary lifestyle puts pressure on the lower back.
Being overweight can increase your risk of back pain, so eating a balanced diet  and staying within a healthy weight range will bring the risk down.