Arson – a blog post by Aviva's Simon Cook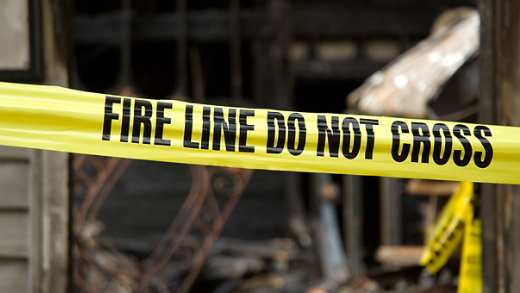 In this blog entry, Aviva's Simon Cook (Technical Account Manager) discusses the topic of arson.

Another blaze at an industrial premises. You can't help thinking that it's someone's business, employer, supplier, retailer or custodian of property? You hope everyone in the premises and attending the fire is safe, but you begin to wonder what could have been the cause of such devastation and misery.
Arson remains a large cause of large fire losses in commercial premises1. It has been for the 30 years I've been involved in Fire Safety. What motivates someone to go to such lengths has always baffled me. It's hard to get inside the head of those willing to commit this crime but it continues to happen, year on year without fail.
What we do understand is that people facing the following difficulties can sometimes resort to arson:
Difficulties with their employer
Difficulties with their mental health
Difficulties with their business or finances
Difficulties in their relationships with others
We are going through times where anecdotally; more and more people are reporting finding aspects of life more difficult. This doesn't necessarily mean we will see an increase in arson, but it would certainly be prudent for any business owner to review their own risks right now.
So, what does this actually mean? Well, a good place to start is to consider whether arson risks have been adequately covered within the Fire Risk Assessment that has been prepared for the premises.
Has the fire risk assessment considered?
Areas of the premises which may have increased susceptibility to arson? Are there sections of the premises that are vulnerable, such as poorly lit and out-of-sight areas? Vacant buildings can often be targeted.2
Is there a history of vandalism, malicious attacks or crime in the area?
Have easily used sources of fuel for any arsonist been identified and controls specified to reduce the arson risk, including?

Combustible materials including waste, flammable liquids, gases, etc.
Elements of the building structure that could assist the spread of fire or even be used to set the fire e.g., damaged composite cladding panels with an exposed combustible core.
And also, are end of day inspections of the building ensuring these easy targets for arsonists are dealt with and made safe before the property is left unoccupied?
Has the fire risk assessment considered the security measures necessary to deter an arsonist? This point needs careful thought as arsonists can be intruders, but also can be employees or invited visitors or contractors. This assessment of security needs should consider each of these scenarios and confirm that adequate security arrangements are in place.
The emphasis needs to be on preventing arson and a good risk assessment will explore possible arson scenarios and seek to remove or control hazards wherever possible.
Should an arsonist be successful then as with all fires, you'd want early detection and warning of any building occupants and also people who can summon the Fire and Rescue Service. Fire protection systems such as sprinklers make it hard for the arsonist to inflict the damage to the property they intend to the property and business. There are many good reasons to install such systems but deterring and defeating the intentions of an arsonist has to be one of the better ones.
Lastly your employees have a vested interest in keeping any potential arsonist at bay. Providing staff awareness training, informing individuals about the threat of arson and how to report any concerns or suspicions can be what makes a difference. Someone noticing and reporting something that prompts action that deters an arsonist.
So now is a good time to review your fire risk assessment specifically against the threat of arson. And Aviva have the resources to help make this task easier and more effective.
Our loss prevention standard provides detailed guidance of the steps you can take to reduce arson risk. It can help you review the adequacy of your fire risk assessment and can be found here.
Aviva also provide an E-Learning course on Arson Prevention through our Specialist Partner, EdApp. This course and other Aviva E-Learning courses can be taken free of charge using the free license plan available on this platform. You can find out more about this E-Learning course here. 
For access to or extensive risk management support and resources, please visit www.aviva.co.uk/risksolutions
 
1. RISCAUTHORITY Risk Control - Arson prevention: The protection of premises from deliberate fire raising
2. Aviva Claims Data 2022