Don't park it – tell us straight away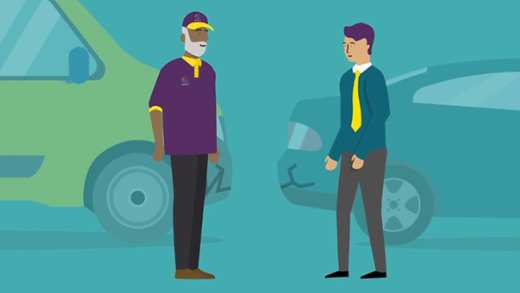 We offer risk management guidance to our commercial customers around protecting their motor fleets however incidents in commercial vehicles do happen and when they do, it's important for us to find out about it as soon as possible, however minor they may seem.
If one of your drivers bumps into the back of someone's car for example, they might think the damage is minimal and decide not to report the incident. However, this delay can introduce a number of issues which can push up the time and cost of the claim settlement.
To demonstrate how delayed notification can impact the outcome of a claim, watch our new video. We've also created a second video aimed at drivers themselves which can be used in training or inductions.
What can you do?
If you employ a team of drivers, you can play a vital role in influencing how motor incidents are reported.
Here are some steps you can take:
Encourage your drivers to report all motor incidents to us as soon as possible, however minor they may seem
Allow us to speak with your driver directly – this can be vital to understanding exactly what happened and to obtain their statement and signature.
Stress the importance of taking down the details of the third party – if we can speak with them, we might be able to help them too if your driver is at fault
Highlight the benefits of full information gathering – any additional material such as photos, CCTV or any witness details could help if a fraudulent claim is made against your driver or if a claim is disputed
These actions can help us to minimise the cost of the claim, manage your claims experience more effectively and reduce the opportunity for fraud.
If you would like to discuss this further or find out what more we can do to support you and your drivers, please contact risk consultant,  claims service manager or underwriter.