Help to prevent high value vehicle theft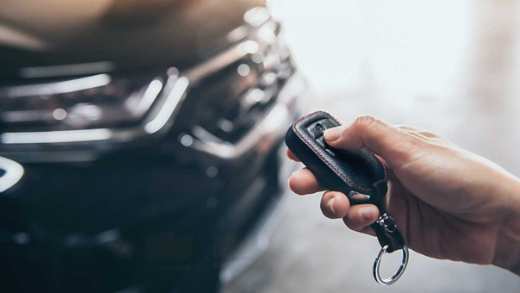 Over the last few years Land Rover Range Rovers have increasingly become targets for organised criminal gangs.* Whilst you may think there's little we can do about this, there are actually a number of steps owners can take that will help make the theft of these vehicle considerably more difficult, and therefore more unlikely. We've worked closely with Thatcham Research to help develop some guidance to help.
Aviva work closely with Thatcham Research as the independent voice of automotive safety, security and repair, driving standards in safety for over 50 years. As a result, the practical steps below are informed by expertise and our combined experience in Motor – it's applicable to all vehicles, but particularly those at the luxury end of the market that are being targeted.
Lock/double-lock your car
This sounds obvious but high-end vehicle theft can occur simply because the vehicle has not been correctly locked in the first place. A sign to check the vehicle has been locked and alarm set, is the indicator lights double-flashing. Some models come with 'walk-away' locking capability where the vehicle locks automatically once you've moved from the vehicle by a certain distance (usually 2 metres), therefore physically seeing the double indicator flash will reassure you that the vehicle is locked
Wing Mirrors 
Are they folded away? This often happens automatically - it is an indication that the vehicle is locked. We believe some criminal gangs look for vehicles without the mirrors folded in as a sign a vehicle is unlocked, although it must be noted that the user can disable this functionality in the vehicle.
Check your area
Is remote locking possible? It has been known that in some built-up areas electronic remote locking is not possible due to electronic interference in that area (can be in car parks but may also be residential areas), if that's the case you'll need to physically lock the vehicle (i.e. using the key in the door).
Trackers 
Many luxury vehicles come with a tracker fitted as standard (maybe with the first year's subscription as free), so consider keeping that subscription going after any introductory period – it may be even a condition of your insurance to have a Tracker fitted and in operation.
Steering Locks
A good old fashioned steering lock, if used every time the vehicle is unattended, can be a useful visual deterrent (particularly if a disc lock is used).
'Faraday' pouches/bags (also known as RFID or EMP bags)
These can be an additional layer of security to prevent certain types of 'relay' attacks on vehicles that use keyless entry systems. Thatcham recommend that the owner tries such a device out to make sure it's effective, rather than assume it works all the time in all circumstances. The pouch needs to be fully closed in order to prevent any signal getting by the key. Some pouches have an additional inner lining which will mean if you put the key the wrong side of the lining, it won't work. In addition, do make sure any additional keys are also stored in pouches - even if the spare key was in a drawer and never used, it needs to be in a pouch to prevent the theft. The vehicle only needs to 'see' one valid key to open and then start.
Garages
Following these basic steps could help reduce the chance of having these vehicles targeted and stolen, which can be distressing all round. Individually they may seem small, but what's all-important is an awareness of how these can become exceptionally significant to criminals on the look-out for a target. If we can alert owners to this, they can start to form 'layers' of security, to help prevent thefts of these very valuable assets.
Please feel free to pass this information on and do let us know if there is anything further you would be interested in receiving guidance on.
For further information refer to our Aviva Loss Prevention Standard on Vehicle Security here.
*Aviva Commercial Motor claims data 2017-2021 shows a year-on-year increase thefts of  Range Rover with a value over £50,000