Powering up on renewable energy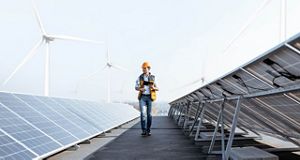 Shifting to an economy fuelled by renewable energy is key to the UK achieving its net zero targets. Insurers have a significant role to play in aiding this transition and tackling the climate crisis and investing in renewable energy capability is a big piece of the puzzle.
Investing in renewable expertise
Aviva's renewable energy insurance proposition has grown significantly – we now insure enough renewable energy to offset the equivalent of 24.8 million tonnes of CO2 annually, with a strong presence in onshore windfarms, solar power and battery storage companies.
But we want to go further – already the UK leader in battery storage, we're targeting a position as a top-three renewable energy insurer in the London Market by year end.
Our renewables proposition is designed specifically to support a variety of customers in a complex market. It provides commercial customers with a single package of insurance to cover the whole life cycle across marine project cargo, construction and operational, third party liability and terrorism cover.
We've built a strong renewables team - our industry-leading experts include Dr Tariq Dawood from EDF in risk engineering and Melanie Carter from WTW, Caroline Reading from RSA and Clare Such (Aviva) in underwriting. Over the coming months there'll be further investment in underwriting expertise and expansion of knowledge and capability.
ESG Underwriting Philosophy
Rapid growth of the renewables portfolio follows Aviva's decision to stop insuring firms directly involved in operational fossil fuel power generation. Since leaving that market in 2019, the renewables portfolio has grown to more than 150% of the size our fossil fuel power generation book was when we exited the market.
In supporting the transition to a low-carbon, sustainable economy, we're continuing to work with customers on climate action and to provide insurance and risk management solutions to those firms that are actively taking steps to move away from high carbon fuels.
Read the full press release to learn more about Aviva's ESG Baseline Underwriting Statement.
Nick Major, MD, commercial lines, General Insurance at Aviva said: "Since launching our renewable energy portfolio we have seen strong, consistent growth. This has been driven by a number of factors including the natural growth of renewables as countries work towards achieving net zero in 2050 – particularly in the US - and growth in battery storage where we are now a UK market leader."
"COP26 has refocused us all on the importance of living and working more sustainably. We have brought in industry leading expertise on risk engineering, underwriting and claims service to form a comprehensive insurance proposition. Renewables is a highly specialised marketplace so we have brought together the expertise to match. We will continue to build on our renewable proposition in 2022 and explore other options in the market such as offshore wind or green hydrogen fuel."
To find out more about our renewables offering, please speak to your usual Aviva Risk Consultant.