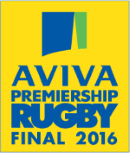 Aviva and Premiership Rugby have teamed up to produce Aviva Tackling Numbers, an innovative and engaging programme for 7-9 year olds; it uses rugby to make learning about numbers fun, exciting and rewarding. Delivered by the 12 Premiership Rugby clubs across England and available to download for free online, the programme integrates interactive classroom maths sessions with practical, number-based rugby games to help develop the financial numeracy and maths skills of the next generation.
So how good is your maths?
If you're up for a challenge tackle our maths test for a chance to win tickets to the Aviva Premiership Rugby Final 2017.
The first year of Aviva Tackling Numbers has been a massive success:
After taking part in Aviva Tackling Numbers an extra 20% of children described themselves as "really confident in maths"
83% of parents have seen an increased awareness of the importance of maths in everyday life for their child
91% of teachers would recommend Aviva Tackling Numbers
80% of teachers rated the programme effective in teaching national curriculum numeracy
70% of parents say that their child's enjoyment of physical activity has increased
26% increase in the proportion of children who do a lot of sport outside of school compared to before the programme
73% of teachers will continue to use the Aviva Tackling Numbers resources in the future