Helping you protect the long-term interests of your scheme members
Here at Aviva we have a detailed understanding of the commitments you face as a trustee. You have a duty to manage the risks associated with your pension scheme – and, at the same time, you are quite rightly looking for value for money. You also need to find a provider, and a employee benefit consultancy firm, who have a clear understanding of the risks you have insured and those which remain.
We tailor our range of bulk purchase annuity solutions to help you de-risk your scheme at a price and a pace that suits you... while never losing sight of your long-term commitment to your scheme members.
If you haven't arranged a bulk purchase annuity before...
We provide a selection of different types of bulk purchase annuity. If you haven't been involved in de-risking a scheme previously, some of the terminology can seem confusing. We can help...
Buy-ins
These are annuity policies that usually only cover some of your pension scheme liabilities. For example, those associated with your current pensioners who are already receiving their pension.
With a buy-in, you:
Hold the annuity policy as a scheme asset.
Retain responsibility for paying for your scheme members' pensions.
Buyouts
If you're looking to wind-up your pension scheme you'll need to fully offload responsibility for paying pensions to your scheme members. A buyout results in each of your members having their own policy with Aviva.
Initially, you'll purchase a single buy-in policy with Aviva and then, at the appropriate time, ask for this to be replaced with individual policies (a buyout).
Buy-ins and buyouts compared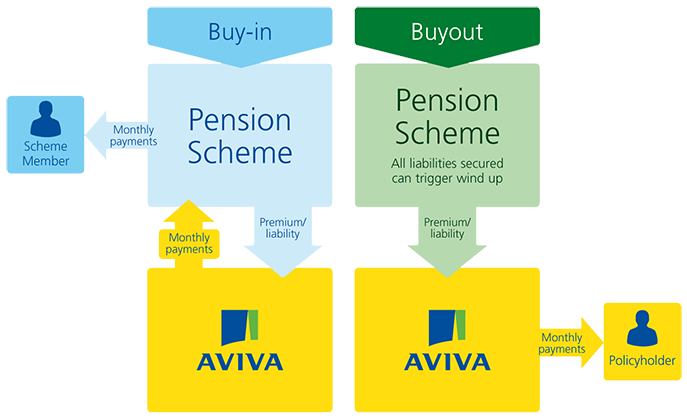 Data guarantees
No doubt you'll have spent time cleansing your data before starting to de-risk your scheme. However, it is possible that some gaps may remain.
We offer data guarantees to cover such circumstances, which also helps to speed up the transition process once the transaction has been completed.
Price linking guarantees
Even with a well matched asset portfolio, market movements can cause asset values and buyout costs to deviate significantly.
Given the considerable time and money you will have invested to get to the point of transacting, last minute shocks can be costly. We offer a range of solutions to help remove the risk of market movements halting a transaction, speak to us to find out what these are.
Spreading the cost
Many trustees and company sponsors would like to insure all their liabilities straightaway but don't have the funds available to do this. If this applies to you, we have a number of solutions designed to help.
One of these is our Delayed Pensioner Payment Bulk Purchase Annuity (DPP).
With our DPP you:
Reduce the cost of the buyout on day one by delaying when payments under your bulk purchase annuity (BPA) policy come into force.
Continue to make pension payments to your members until the handover point.
Read more about the features and benefits of our DPP BPA (PDF 375KB).
Trigger monitoring
If a transaction is unaffordable, we can monitor your selected trigger point against our buyout prices whilst finalising legal contracts and transition plans. From here you will be in a position to capture the opportunity to move quickly ahead once the trigger is hit.
Medical underwriting
This is a progressive development in the BPA market. We use our existing capabilities from the individual annuity market to offer you an option to medically underwrite your scheme membership.
This will allow the buyout cost to better reflect the actual cost of providing your member's benefits.
It's important to note that in approximately half of the cases we medically underwrite, we would expect the buyout cost to increase when compared to a traditional BPA. Therefore, this option is likely to be best reserved to circumstances where a traditional BPA is unaffordable or where you are certain the majority of your membership is in poor health.
You'll also need to bear in mind that once you've collected this information, you'll need to disclose it to insurers for any future buyout request.
Could medical underwriting be right for you?
Yes, if you've had a traditional quote with no medical underwriting and the costs are too high.
Yes, if you've a small number of members who account for a large proportion of your scheme's overall liabilities and you are certain that they are in poor health.
Read more about the medical underwriting of pension schemes (PDF 27KB) and how this works.