Why choose us
We can provide an easy-to-manage workplace pension scheme for businesses of all sizes:
Financial strength
Our workplace pension is 5 star defaqto rated and exceeds The Pension Regulator's criteria. Aviva's brand strength and legacy will resonate well with your clients.
Outstanding support
Access to UK-based telephone, email and Livechat support at all setup stages from our dedicated teams, plus auto-enrolment software that can be tailored to your needs.
Small business specialists
Unlike many other providers, our workplace pension is designed for businesses of all sizes; even if your client only employs one person, we can still offer an auto-enrolment solution.
For you & your client
Reports that explain the costs of auto-enrolment simply to your clients
High quality supporting software, information and resources
Software that makes uploading payroll data seamless
For the scheme members
A low member annual fund charge that never exceeds 0.75%
A workplace pension they can keep if/when they switch employer
Access to great discounts and savings through Aviva advantages
Workplace Pension Provider of the year, 2016
By Payroll world Awards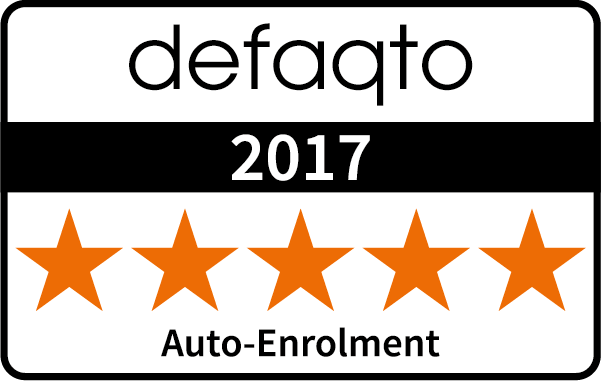 Auto-enrolment 5 star rating, 2017
By Defaqto
Our charges
In order to run your client's scheme and provide them with the best support, tools and services, we charge a monthly fee.
Monthly ongoing charges
For your client (employers)
Typically between £30 and £50 a month
For employees
No monthly admin charges. An annual fund charge is applicable (maximum 0.75% per year, in line with government requirements for the default fund).
If you want to see how much your client's scheme is likely to cost
Or if you are looking for a detailed auto-enrolment costs report
Ready to apply
Stage 1

Get a quick quote to see how much it costs

Stage 2

Complete your application in 15 minutes

Stage 3

We'll send the application to your client to accept

Stage 4

Start to manage your client scheme online
Things needed in hand to apply
Aviva account number
If you're not sure if you have an Aviva account, or you already have one but you've forgotten the number, give us a call - 0800 151 2554. Your account number is also known as your agency code.
If you don't have one please apply for an Aviva account
Client's business details
You'll need your client's business name, address/es, registration number plus their scheme start date– You'll also need to have your own details to hand.
Key scheme contacts
You'll need details of who will be the scheme administrator, who will manage the scheme, as well as authorised signatories and contacts for invoicing and legal notices.
Our Investment options
Our workplace pension provides a good quality, compliant, default investment solution with full governance. And, for those of your clients employees' who want more say in their investments, they can choose from a range of over 200 investment funds; including a Sharia and ethical funds.
Whichever option your clients' workforce decides on, they can manage their pension investment online and switch between options without incurring any additional processing charges.
Payroll integration
Our workplace pension is designed to be compatible with all types of payroll software.
With certain types of payroll software, we can provide complete payroll integration, providing your clients with a faster and more secure way to run their workplace pension scheme.
Whatever type of payroll software is used, we'll provide the scheme administrator with the training and support they need.
To get you started
Use our tools and set up your Aviva account to start your Auto-enrolment journey
Free adviser tool kit
To help you to support your employer clients through this process, we've put together a free toolkit which will help make things easier.
Aviva account
If you're not sure if you have an account, or already have one but you've forgotten the number, give us a call - 0800 151 2554. Your account number is also known as your agency code.
If you don't already have an Aviva account, you'll need one to get things started.
What are customers saying about our workplace pension?
BUSINESS OWNER
"I felt my overall experience with Aviva auto-enrolment was liberating – it was taken out of my hands and done for me"
Liz Jackson
The York Priory B&B
York
Video transcript
Hi, I'm Liz Jackson and I'm the third generation of Jackson to run and own the York Priory
The very first time I heard about auto-enrolment was when a letter dropped on my doormat with 'auto-enrolment' written on it and 'this is not a circular'
*Statistic* - Around 800,000 businesses are due to stage in 2017/18.
Source – The Pensions Regulator
I was filled with horror and I though oh dear oh dear, I have to tackle all of this, but as I was in the middle of my office move, I decided to put it into my inbox to deal with later
*Statistic* - Over 40% of UK businesses admit to leaving auto-enrolment to the last minute and over 10% miss their staging date completely.
Source – Aviva staging date tracker Oct 2016
So I looked straight on to Google, Aviva were there on the list, and I thought 'great, that's who I'm going to go for – a familiar company'
From start to finish I felt (the process) was very, very easy to do. I was very happy with it, by a couple of hours I was auto-enrolled and sorted out
I didn't have to ask the accountant for help, I didn't have to ask for any external help from anybody else, I just sorted it out from start to finish on my own
And it was really, really easy, you just fill out everything you need to do – your annual income, your staff wages, it tells you what you need to be paying
And you just complete it right through to the very end of the page and the minute you finish that, you're all enrolled and sorted out
You receive papers within a few days, and you just take it from there – I've just been quite comfortable and happy it's ticking along nicely in the background for me!
Auto enrolment, it's important that I know what I'm talking about because my staff hear from friends and acquaintances and they come to me and ask questions l
If there was anyone else who wanted to auto-enrol, just do what I did – if I can do it, anybody can do it, that's for sure!
In my experience you couldn't do better than Aviva, so I would definitely recommend Aviva as a company to try
However, there are other options there if they (other businesses) do wish to choose other ones, but Aviva has definitely worked for me and I would definitely recommend them
It empowered me to do it – empower yourself to it!
FINANCIAL ADVISER
"Aviva went above and beyond the call of duty for me - I can't fault the customer service"
Paul Jeffrey
Cherish U Ltd
Cheshire
BUSINESS OWNER
"Everything was covered, no problems at all. It's all gone perfectly smoothly."
John Collis
London Ship Managers Ltd
London
HR MANAGER
"The time and effort Aviva put into helping me was commendable"
Manjula Hawaldar
Infosys Ltd
London
Need more help?
We are always happy to help you with any questions you have around auto-enrolment and how we can support you.
Our Lines are open Monday to Friday 9.00am – 5.00pm.
0800 151 2554
businesssolutions@aviva.co.uk
We may record or monitor our calls to help us improve our service