The options you choose when you take out your Pension Annuity will affect the amount of pension income you'll get. Generally, the more options you add, the lower your income in retirement will be. You can get a personal illustration, which shows the difference the various options would make to your pension income.
Level income. You'll receive an income, which will be paid at the same level for the rest of your life.
Escalating income. Your pension will increase by a fixed percentage each year for the rest of your life.
Inflation-linked income. Your pension will increase in line with inflation (as measured by the Retail Prices Index) each year for the rest of your life.
Dependant's pension. You can choose a dependant to continue to receive an income after you die and also choose whether this is paid at the same level as your pension income or lower.
Guaranteed period. Aviva offers a minimum one year guarantee period as standard, however you can choose a longer guarantee period of up to 30 years. If you die after 90 days but within your guarantee period, we will continue to make annuity payments to your estate or dependants until the end of that period. However, this does not apply if your annuity was purchased for you by the trustees of a defined benefit pension scheme.
Value Protection. Aviva offers value protection as standard for the first 90 days of your plan. If you die within this period a lump sum will be payable to your estate. This will be equal to the fund value used to buy your annuity, less any payments already made including tax-free cash and adviser charge.
You can choose for Value Protection to continue once the first 90 days have come to an end. This means that you can protect up to 100 percent of the fund value used to buy your annuity for either the rest of your life, or for a specified term which begins at the start of your plan.
Payment options. Your income can be paid monthly, quarterly, half-yearly or yearly, either:

In advance. This means that payment of your pension income will be from the start date.
In arrears. This means that payment will be one month, quarter, half-year or year after the start date, depending on your chosen payment frequency.
Or by chosen start date. If you decide to be paid monthly, you can choose to have your pension income paid on a certain date each month - the first payment must be within one month of the start date of the plan.
Pension Annuity Calculator
Using factual information provided by you, this easy-to-use calculator produces figures based on Aviva's pension annuity product and some of the options it can offer. For information about all our annuity's options, you should see our Pension Annuity​.
Please be aware that the calculator isn't intended to provide personalised advice or give personal recommendations
Next steps
For more information
Call us on
0800 533 5195
Lines are open:
Monday to Friday, 9.00am - 5.00pm
Calls are free from UK landlines and mobile phones. For our joint protection, telephone calls may be recorded and/or monitored.
We can give you all the facts about Aviva's products and services.
We can't give you advice. If you are unsure whether a product or a service is suitable for you we can put you in touch with a financial adviser who can give you a personal recommendation. This service will be restricted advice and is limited to a number of product providers. There may be a charge for their advice.
Alternatively, you can visit www.unbiased.co.uk to find an adviser in your local area
Nothing on this site is personalised advice or a recommendation. If you need a personalised recommendation based on your personal circumstances, you should seek financial advice.
Pension Wise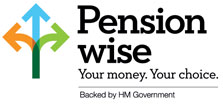 Pension Wise has been set up by the government and offers free and impartial guidance for people retiring with defined contribution pensions. It will help you understand what your choices are and how they work.
You'll be able to get help on the Pension Wise website, over the phone or face to face.
If you are approaching retirement we recommend you get guidance or advice to help you understand your options.
Aviva UK Digital Limited introduces to Aviva Life & Pensions UK Limited for annuities. Aviva UK Digital Limited is registered in England No. 09766150. Registered office: St Helen's, 1 Undershaft, London EC3P 3DQ. Authorised and regulated by the Financial Conduct Authority. Firm Reference Number: 728985.
Aviva Life & Pensions UK Limited. Registered in England No. 3253947. Registered office: Aviva, Wellington Row, York, YO90 1WR. Authorised by the Prudential Regulation Authority and regulated by the Financial Conduct Authority and the Prudential Regulation Authority. Firm Reference Number: 185896.