Solutions, our private medical insurance for companies
Our private medical insurance can be adapted to your unique business needs. From flexible healthcare options to ongoing support, we're here to help your business and employees when it matters.
Dedicated cancer treatment
Extensive cover and support at every stage of cancer treatment.
Mental health cover
Options to provide mental health support for your employees.
BacktoBetter
An independent case management service for back, neck, muscle and joint pain, with no need to see a GP.
The COVID-19 pandemic
Find out how coronavirus and emergency measures for private hospitals affect your health insurance cover, and our pledge to UK Private Medical Insurance Customers.
Why choose us?
Our private medical insurance gives members prompt access to the treatment they need, supporting your employees and your business.
Aviva Digital GP
Get around the clock access to unlimited GP video consultations and repeat NHS prescriptions (all NHS England exemptions accepted) with free UK delivery - all at the touch of a button. Aviva Digital GP is powered by Square Health and is available to residents of Great Britain, Northern Ireland, the Channel Islands and the Isle of Man at home or abroad. Terms and conditions and the privacy policy for Aviva Digital GP can be viewed in-app before you sign up. Mobile data charges may apply.
This service is a non-contractual benefit that can be withdrawn by Aviva at any time.
Adapt your cover to suit your business
We understand that no two businesses are the same. That's why with Solutions, you can create a level of cover to suit the needs of your business. Enhance your cover with additional benefits or decrease it to suit your budget. So, everyone gets access to the right treatment, at the right time, at the right price.
What's covered with Solutions?
We offer an extensive range of cover to help your employees get back to feeling their best.
Your cover includes
Acute conditions
Our Private Medical Insurance covers treatment for short-term illnesses or injuries that respond quickly to treatment and which leads to a full recovery.
Extensive cancer cover
Extensive cover and support at every stage of cancer treatment.
Hospital charges and specialist fees
Our private medical insurance provides cover for things like consultations, diagnostic tests, such as X-rays and blood tests, specialists' fees and hospital accommodation.
Treatment for back, neck, muscle or joint pain (musculoskeletal conditions)
Solutions includes BacktoBetter, an independent musculoskeletal case management service for members, to help them get better and back to work quicker.

Psychiatric treatment
Treatment on GP referral, as an out-patient with a psychiatric therapist or psychiatric specialist, up to £2,000 each member, every policy year.

You're not covered for
This is a summary of some of the exclusions that apply to your policy, which may change depending on the options selected. Please see your terms and conditions for full details.
Chronic conditions
We don't cover incurable or long- term illnesses or conditions, such as diabetes, epilepsy and asthma. But cancer treatment is covered as standard.
Pre-existing conditions
We don't cover any previous health conditions your employees have prior to your cover starting, unless your underwriting allows it.
Addictions and substance abuse
We don't cover treatment for addictions (such as alcohol addiction or drug addiction) or substance abuse (such as alcohol abuse or solvent abuse), or any related treatment.
Pregnancy and childbirth
We don't cover pregnancy and childbirth or treatment required as a result of pregnancy or childbirth, other than the complications detailed in the terms and conditions.
Cosmetic procedures
We will only cover cosmetic surgery that immediately follows an accident or treatment for cancer. See the policy document for full terms and details.

For a full list of what's not included, see our terms and conditions for Solutions 2-99 employees PDF (614KB) or Solutions 100-249 employees PDF (574MB).

Adapt your cover
You can choose to increase your cover with additional benefits, which will increase your premium. Or, decrease your cover to suit your business needs and budget.
Increase your cover
Increase your cover with these options
Dental and optical
Cover for routine dental treatment, treatment for accidental dental injuries and optical expenses, each up to a specific limit.
Mental health treatment
Cover for in-patient or day-patient psychiatric treatment, up to a combined limit of either 28 or 45 days, if an employee is diagnosed with an acute psychiatric condition.
Routine and GP referred services
Includes consultations and diagnostic tests with a specialist for chronic conditions, GP referred radiology, pathology for non-musculoskeletal conditions and GP referred therapies for non-musculoskeletal conditions - up to £1,000 in combined total for each member, every policy year.
Upgrade your hospital list
You can choose to upgrade to our Extended Hospital List - increasing the number of hospitals you're able to use, predominately in the Greater London area.  See our hospital list PDF (423KB).
Reduce your cover
Make your cover more affordable with these policy options
Six week option
Reduce your premium by choosing to use the NHS for in-patient or day-patient treatment if it's available on the NHS within 6 weeks. Your employees will still be covered for private out-patient treatment, but private in-patient or day-patient treatment will only be covered if NHS treatment isn't available within 6 weeks.
Policy excess
Reduce your premium by choosing a £50, £100, £150, £200, £250 or £500 member excess.
We apply the excess once, for each member, every policy year, regardless of the number of claims made during that policy year.
Selected benefit reduction
This option removes benefit for:
* limited emergency overseas cover
* treatment for complications of pregnancy and childbirth
* investigations into the causes of infertility, and
* surgical procedures on the teeth performed in a hospital.

Reduce your out-patient cover
Limit out-patient cover to £0, £1,000 or £1,500 for each member every policy year.
With this option, we still provide cover in full for CT, MRI and PET scans at a diagnostic centre that we recognise, radiotherapy and chemotherapy, and physiotherapy for pain in the back, neck, muscles or joints (musculoskeletal conditions) through BacktoBetter. The monetary limit doesn't apply to out-patient cancer treatment received after a cancer diagnosis.  In addition, we'll also cover any costs for pre-admission tests required within 14 days of admission to check that your members are fit to undergo surgery and anaesthesia. 

Free cover for your first month
The first month is on us as long as you keep the cover in place for a year, and you haven't had a private health policy with us in the last year.  Terms and conditions apply. 1
Cover that matters
With Solutions, your employees will have access to extensive cancer cover and BacktoBetter - a musculoskeletal case management service.
Cancer cover
We understand the importance of providing extensive cover and support at every stage of cancer treatment. We'll cover the cancer treatment and palliative care your employees need, as recommended by their specialist.
We also want to make sure that things are as comfortable as possible for your employees following their cancer treatment. So we'll provide extensive cover for their aftercare, including consultations with a dietitian, as well as money towards prostheses and a wig.

BacktoBetter
Musculoskeletal conditions affecting the back, neck, muscles or joints can worsen over time. That's where our BacktoBetter service can help. Your employees will be referred to one of the independent clinical providers who will guide them down the right treatment pathway.
We'll pay for a physiotherapist (as recommended) when they need it. There's no need to see a GP either - your employees can simply call the customer service helpline to access BacktoBetter.

Group scheme leavers
When an employee leaves your company and is no longer covered by your private health insurance scheme, don't forget that they may be entitled to continued cover on an individual basis.
We may be able to give them continued medical cover on one of our individual private health insurance plans, if they seek a quote for the new plan within 45 days of their leaving date, which they must accept within 30 days of receipt. Benefits, exclusions, terms and conditions on an individual plan may differ from those of the company scheme they were previously covered by, and the cost will depend on the product and options they choose.

Employees leaving your company can call us on 0800 142 142 to find out more.

Lines are open Monday to Friday, 9am-5pm and Saturday 9am to 1pm. For our joint protection, telephone calls may be recorded and/or monitored. Calls to 0800 numbers from UK landlines and mobiles are free.
Which policy could group scheme leavers transfer to?
Healthier Solutions is our individual private health insurance which offers a range of tailored cover to suit their needs. The terms, benefits and exclusions may differ from the company scheme they were previously covered by. They can find out more on our private health insurance pages, or call us on the number above.
Awards and ratings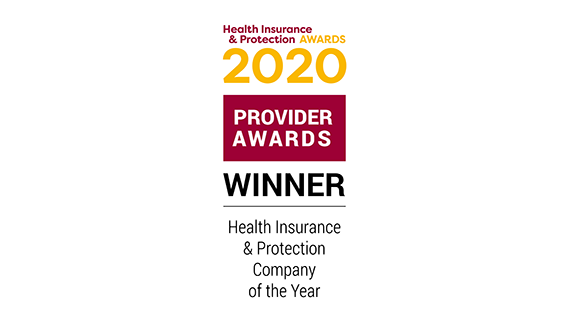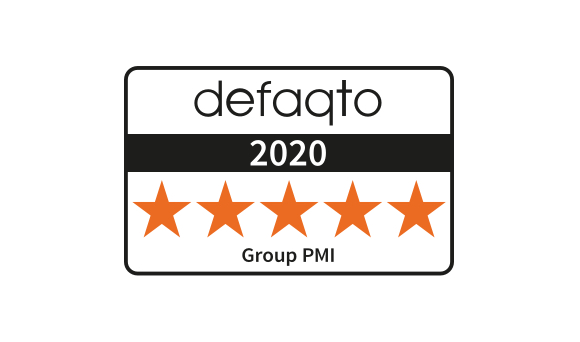 ---
Get a quote
Need cover for 2 to 99 employees?
Use reference: SME-NAT Monday to Friday 9:00 to 17:00
For our joint protection, calls may be monitored and/or recorded.
Need cover for 100 to 249 employees?
Use reference: SME-OQR Monday to Friday 9:00 to 17:00
For our joint protection, calls may be monitored and/or recorded.
How to make a claim
It's quick and easy to make a claim
Step

1
See your GP
Your employee should visit their GP and discuss their symptoms. If treatment is required, they can ask for an open or named referral. Remember, if they have a musculoskeletal problem, there's no need for them to see a GP.
Step

2
Call our claims team
If your employee's claim is covered by your policy, we can recommend a hospital or specialist for treatment.
Step

3
We'll settle quickly
We'll usually settle all eligible bills directly with the provider of treatment, usually the hospital or specialist.
Looking for something else?
We offer a range of flexible insurance options to support your employee and business needs.