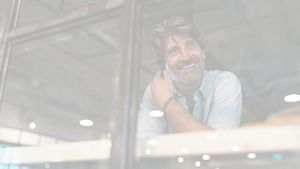 Aviva Flex-pertise™
Giving your employees more control
Introducing Aviva Flex-pertise™
Aviva Flex-pertise™ allows your staff to take control of their employee benefits. You select the package that's right for your business and employees' needs, and your employees can choose the level of cover to suit their lifestyle.
Watch this video to see how Aviva Flex-pertise™ can work for you and your employees.
You can use Aviva Flex-pertise™ with these policies:

Group Income Protection
Group Life
Spouse/Partner Life Assurance 
Group Critical Illness
Spouse/Partner Critical Illness cover*
Children's Critical Illness cover (including cover for child-specific conditions)*
*Spouse/Partner and Children's Critical Illness cover are only available if you or your employees choose Group Critical Illness.
What are the benefits?
See how our flexible employee benefits can work for you and your workforce.
For you
Offer more than just a competitive salary
Flexible benefits give your employees something extra to support their individual circumstances.
Expert assistance
From setting up to asking us for help with a scheme, our dedicated team will support you whenever you need it.
Easy to manage
We'll take care of everything, from starting up your scheme, to paying your employees' claims.
Manage your costs
Choose the core level of cover you want to offer and how much you'll contribute.
For your employees
Choose the cover they want
Gives employees the chance to choose the cover that's right for their individual needs and budget.
Protection for their loved ones
Your employees can choose to protect their partner with our Group Life or Group Critical Illness products.
Control of their benefits
Employees can review their benefits if their personal circumstances change due to a lifestyle event.
Support when they need it
Employees get access to a second medical opinion, 24/7 contact with BACP accredited counsellors, bereavement support and more.
Choose the level of cover you want
Tailor your cover to meet your business and employees' needs. With Aviva Flex-pertise™, you can arrange cover for 250 people and above, or 100 people and above when you choose the core level of Group Life cover.
Group Income Protection
Group Life
Spouse/Partner Life Assurance
Group Critical Illness
Minimum core benefit (selected and paid for by the employer)
35% of salary
1 x salary paid as a lump sum payment
No core benefit required
No core benefit required
Maximum benefit levels available
80% of salary or £425,000 – whichever is lower
15 x salary
£250,000
£500,000 or 5 x salary – whichever is lower*
Aviva Flex-pertise™ step options for employees
Up to 80% of salary, plus the option to increase the benefit payment term
Increases of 2, 3 or 4 x salary
Steps of £10,000 or £25,000
Steps of £10,000 or £25,000
Benefit type
Monthly benefit or lump sum payment**
Lump sum payment
Lump sum payment
Lump sum payment
Added-value services
Employee Assistance Programme (EAP)
Bereavement helpline
Stress counselling helpline
Bereavement helpline 
Stress counselling helpline
Stress counselling helpline
*For Spouse/Partner Critical Illness, the maximum benefit available is £250,000 or the amount selected by the employee if lower. And for Children's Critical Illness, it's 25% of the value of an employee's benefit – up to a maximum of £20,000.
**Lump sum benefit payments on Group Income Protection are only covered on core benefit and are payable at the end of a chosen limited payment term should the employee continue to meet the definition of incapacity.
Please note that all added-value services included under our cover are non-contractual benefits and can be withdrawn at any time without notice.
---
How to apply
If you'd like to offer Aviva Flex-pertise™ employee benefits, or have any questions, please speak to your financial adviser. Or, simply get in touch with your Aviva Group Protection account manager if you have one.
Please note, we are currently unable to offer direct new business quotes for Group Critical Illness, Group Income Protection and Aviva Flex-pertise™. We can offer Group Life insurance quotes direct.
Still need help? Give us a call:
Monday to Friday: 9:00 to 17:00
For our joint protection, telephone calls may be recorded and/or monitored and will be saved for a minimum of five years. Calls to 0800 numbers from the UK landlines and mobiles are free.
Looking for something else?
We offer a range of flexible insurance options to support your employees' and business needs.