What is a lifetime mortgage?
If you're a homeowner, you've probably seen the value in your home increase over time. A lifetime mortgage is a type of equity release which allows you to tap into some of this value and release a cash sum. It's a long-term loan secured against against your home.
You must be aged 55 or over, have a property worth at least £75,000 and be able to release a minimum of £15,000. Terms and conditions apply, and eligibility will depend on your property type and individual circumstances.
You will have little or no mortgage outstanding. You must use the amount released to pay off any existing outstanding mortgage.
You retain legal ownership of your home.
You can safeguard a percentage of your home's value with our inheritance guarantee, although this will reduce the amount you are able to borrow.
You're protected with our no negative equity guarantee, so you, or your estate, will never pay back more than you receive from the eventual sale of your home, provided it is sold for the best price reasonably obtainable.
Things to think about
There are no monthly repayments. Instead, interest is added to the loan and to any interest previously added each year. This quickly increases the amount you owe. The loan and interest are repaid in full, usually from the sale of your home, when you die or go into long-term care, subject to our terms and conditions.
A lifetime mortgage is a lifetime commitment. If you choose to end it early, you may have to pay substantial early repayment charges.
It will reduce the amount of inheritance you can leave.
Releasing equity can affect your tax position and eligibility for welfare benefits.
A lifetime mortgage may not be suitable for you, if you have savings you could use instead, or would prefer to sell all, or part of your home, or downsize.
You cannot take out a lifetime mortgage without financial advice, so when you call us, we'll put you in touch with a carefully selected equity release adviser. The adviser isn't employed by us, but can only advise on our equity release products. You'll also need to seek advice from an independent solicitor.
This is a lifetime mortgage. To understand the features and risks, ask for a personalised illustration.
Our lifetime mortgages are not available in the Channel Islands or the Isle of Man.
Watch our short video to find out how equity release could help you.
Video transcript
Having a clear out?
I bet there's a lot of your past hidden away inside that house. But here's something to think about. Your future might be locked up in there, too.
You're both over 55, right?
And you own a home worth at least £75,000?
That's good, because equity release providers do take your age and the value of your home into account when they're deciding who's eligible. They're often around this level but can vary between providers.
All right then. Let's see what we could find locked up in the value of your home. Equity release is a way of unlocking some of the value of your property. It's not suitable for everybody, but if you are eligible it's a way to access money from your home without having to move.
With a lifetime mortgage, the most common form of equity release, you don't usually have to make any repayments until you die or go into long term care, but interest will be charged on the full amount.
So let's look at what might be inside that house…
Your grandchildren's education
Special treats such as a nice holiday or a new car
Home improvements
Helping your kids get on the property ladder
Or just a more secure retirement.
Not everyone looks on their home as a part of their financial planning, but if its value has gone up, you may have been saving for your future without realising it.
So you might find you can hang on to all those good memories tied up in your home and think about a way to make some more for the future.
Taking out equity release may affect your tax position and any entitlement to welfare benefits.
You should bear in mind that equity release will reduce the inheritance you could leave – possibly to nothing.
There are plenty of things to consider before releasing equity from your home, but there are some things which might not be quite as you'd expect. Watch our short video and join us as we challenge some of the more common equity release myths.
Video transcript
Today we're going to be challenging some myths.
OK. Bring on the first myth
Err... not you Colin. You're not the sort of myth we're after.
We're talking about the myths of equity release, a way of releasing some of the value locked in your home..
The type of equity release offered by Aviva is a lifetime mortgage.
Many people think that taking out a lifetime mortgage means they won't own their home any more.
But this isn't true. It's your home as long as you need to live in it.
Because these lifetime mortgage are, well, mortgages, some people think they'll have to make monthly repayments.
But no regular repayments are ever required – instead the loan is repaid either when you die or if you go in to long-term care.
Some people worry that if the value of their home were to go down, their family would be lumbered with a nasty debt after they'd gone.
But as members of the Equity Release Council, Aviva offers a No Negative Equity Guarantee.
You should always talk to family members before taking out equity release. And yes, it will reduce the inheritance you could leave.
But you will have the option to take up a product with inheritance protection, so you could effectively ring fence a percentage of the value to leave to your loved ones. Bear in mind that, if you choose this option, you may not be able to borrow as much.
There are portable products available. Depending on a number of factors, including the value and type of house you're moving into, you could be able to bring your lifetime mortgage with you when you take off for somewhere new.
So, another myth disproved. But that's the thing about myths.
They're not real.
Ask us
Browse our Equity Release FAQs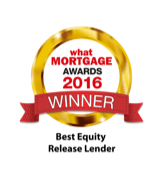 Aviva UK Digital Limited introduces to Aviva Equity Release UK Limited for lifetime mortgages. Aviva UK Digital Limited is registered in England No. 09766150. Registered office: St Helen's, 1 Undershaft, London EC3P 3DQ. Authorised and regulated by the Financial Conduct Authority. Firm Reference Number: 728985.
Aviva Equity Release UK Limited. Registered in England No. 03286484. Registered office: 37 -43 Surrey Street, Norwich, Norfolk NR1 3UY. Authorised and regulated by the Financial Conduct Authority. Firm Reference Number 310433.