This year, we are working with the StartUp community to create a series of exciting events that will offer StartUps the opportunity to showcase their talent and develop their business ideas. We are all about finding breakthrough innovations and extraordinary talent, and giving that talent the opportunity to thrive.
Whether you've got the beginnings of an idea, or have a vested business with some innovative products or proposals - if it's FinTech related - we want to hear from you!
To give you a flavour of what we're doing this year, here's some info about our recent Hackathon:
Over the weekend of the 28th March we held our first FinTech Hackathon at Innovation Warehouse, in partnership with the 3 Beards. A grand total of 91 people flocked through our doors on the Friday evening and we had a surprising 26 individual ideas pitched that evening.
On the Sunday night, the teams wowed the judges with products such as a virtual Aviva branch created using Oculus Rift, several fully-functioning and highly innovative apps and a super-intelligent, wiz-kid hack of Excel. Then, finally, from our winners, Insure my Friend, an app that uses meta data from a selfie & social data to streamline the quote and buy process.
Our judges for the Hackathon, which included Mark Wilson, CEO of Aviva, Andrew Humphries, Co-Founder of The Bakery, Richard Johnson, CSO of Monetise Group, and Julie Meyer, CEO of Ariadne Capital, were truly impressed with the presentations. So much so, they not only awarded the 1st, 2nd and 3rd prizes as planned, which included desk space at Innovation Warehouse, Rackspace, and a range of gadgets from Sphero balls to Fitbits, they also awarded two honourable mentions with a prize of champagne.
Closing the weekend, Mark Wilson said
What I've seen here is what happens if you put talented people under pressure, you get diamonds.

Mark Wilson
To find out more about the fun had during our Hackathon, from the antics of the resident cat to the games played with our rugby balls, and of course, all of the winners, check out our Twitter page @AvivaInnovation.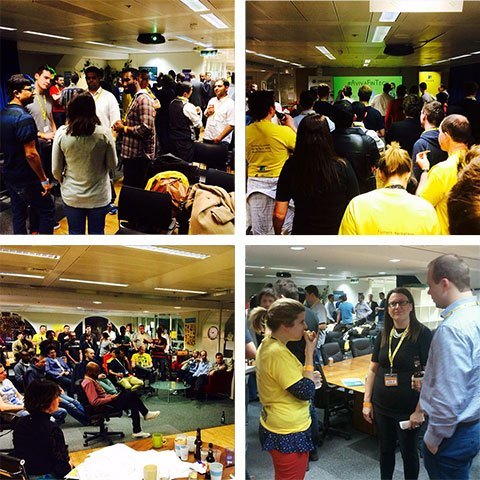 Eager to get involved? Check out NewFinance's 'Insurance Disrupters Programme'.