Protect your funeral costs
As we grow older, we start to think about what will happen and how our loved ones will cope after we've gone. Many people would like to put their mind at rest by leaving something towards funeral expenses, unpaid bills or to leave a nest egg for loved ones.
Please note : All case studies are fictional and are for illustrative purposes only.
Funeral costs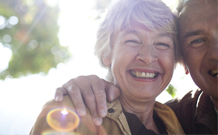 Sheila is 63.
She lives with her husband, has two grown up children and three grandchildren.
Each month, she gets £625 as a pension. There are no mortgage payments to worry about, so she can spend £500 on living expenses and bills.
Sheila's loved ones are all financially stable but she worries about the costs of her funeral and doesn't want to be a financial burden.
Products she might take from Aviva
Find out more about our over 50's life insurance.
Find out more for Over 50's Protection Plan
To help you choose
Want to know more about life insurance? Our tools and guides can help you understand how to protect the things that matter most, and how much insurance you may need.
Contact us