Protect your home
It makes sense to help ensure that you have some financial security by having insurance that helps protect the amount outstanding on a mortgage or long term loan.
You can take out life insurance on an increasing or decreasing basis. If your cover increases over time then your premiums will also go up. If your cover decreases over time broadly in line with how much you may owe on a repayment mortgage or loan, then your premiums can be guaranteed to remain the same.
Everyone's circumstances are different. These examples explain how Aviva products could help you to protect your home.
Please note : All case studies are fictional and are for illustrative purposes only.
Nothing on this site is personalised advice or recommendation. If you need a personalised recommendation based on your personal circumstances, you should seek financial advice.
Repayment mortgage?
Andy, 34 and Susi, 35 are a young couple with no children.
This is their first mortgage – it's for £120,000 over 25 years. They own the house jointly and earn about £42,000 a year between them.
Susi's worked out that they spend £640 a month on the mortgage payments, and about £850 or so on other bills and expenses.
They want to be sure the mortgage could be paid off or that they could stay in their home if something unexpected happened to either one of them.
Which insurance policies could they think about?
They're non-smokers. To help cover their mortgage – that's £120,000 over 25 years – they could take out a Life Insurance Plan with decreasing cover, which would cost them £10.78 per month.
Get a quote for life insurance
If they want to have a Critical Illness Plan with decreasing cover for the same cover amount and policy term as well, that would cost an extra £49.72 a month.
Get a quote for critical illness cover
They might also think about Income Protection, which provides a monthly payment if work isn't possible due to illness or accidental injury.
Find out more about income protection
These examples are correct as at 20/09/2015. These products have no cash-in value at anytime.
Renting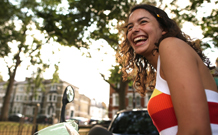 Paying rent isn't the same as paying the debts linked to a mortgage. If you'd like to read more about a typical renting scenario, please visit our family section, in our young family example.
To help you choose
Want to know more about life insurance? Our tools and guides can help you understand how to protect the things that matter most, and how much insurance you may need.
Contact us