Retiring after a bereavement
Even the best laid plans can be shattered by unexpected events. For some people, their decision to retire may follow a personal tragedy.
If you lose someone you love, it may be hard to carry on with normal life after their death. At the very least, it often prompts you to think long and hard about your own life. If this happens to you, you may decide to spend less time at work and more time with the other important people in your life.
Case study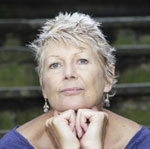 This case study is fictitious and is intended for illustrative purposes only.
Angela has recently lost her husband of 40 years to cancer. She works in a shop, but scaled back her hours to care for her husband, Frank, during his illness. Angela is 61 now and had intended to continue working until she was 65 but, after the loss of her husband, she has decided to retire and spend more time with her daughter and grandchildren.
Angela isn't used to dealing with finances as Frank handled them all. However, she is determined to get to grips with what she needs to do to retire. First of all she talks to a financial adviser and asks him to help her sort out what she gets from her husband's pension fund.
Angela has a pension plan with Aviva and calls to ask for the current value. She also goes online to find out more about what's on offer and uses Aviva's Pension Annuity Calculator to see how much income she might get.
After looking at her options and talking to her financial adviser, Angela decides to use her pension fund to buy a pension annuity from Aviva. Together with the income she receives from her late husband's pension, she'll have enough to live a comfortable retirement and enjoy extra time with her family.
Get help from an expert
Buying an annuity is an important decision, we strongly recommend that you talk to a financial adviser before you do anything. For advice and information on your retirement options and annuities, contact your financial adviser. Don't have a financial adviser? Find one near you at www.unbiased.co.uk.