Retiring due to redundancy
You never know what's around the corner, so it is possible that your carefully laid plans about when you want to retire could be derailed by something like redundancy.
If you're over 55 when you're made redundant, you may have the option of retiring instead of striking out in the job market again.
Case study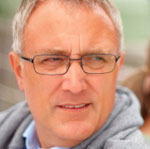 This case study is fictitious and is intended for illustrative purposes only.
Shortly after his 60th birthday, Tony found out that he was being made redundant by his employer. This came as a shock to Tony and he was worried that, at his age, he wouldn't find work that would pay him a comparable salary.
In an ideal world, Tony had thought that he would work until he was 62, the normal retirement age at the company he works for. However, now that wouldn't be an option, Tony talked the situation over with his partner and decided to find out more about taking his retirement benefits earlier than he'd planned.
He spoke to a financial adviser, who helped him see the bigger financial picture. As well as helping him with his pension decisions, Tony's adviser discussed investment opportunities for his redundancy money that would also generate an income for him. Taking everything into consideration, Tony decided that he and his partner would be able to have the retirement they wanted without the stress of finding a new job.
If you want financial advice, please contact your Financial Adviser. If you don't have a Financial Adviser you can find one via www.unbiased.co.uk.