Ask any parent and they'll tell you that nothing changes your life in the same way as the arrival of your first child. It's a truly special time, and you'll get a great deal of pleasure from each new purchase as you plan for your baby's arrival. But you'll hardly need telling that it won't be cheap.
From doing up the nursery, to buying a pram, car seat, clothes and toys, the costs can really add up and it's all too easy to spend thousands of pounds even before a baby's first birthday.
Financial support for parents
Don't panic! With some careful planning parenthood needn't be a constant financial struggle. And you're also likely to benefit from some financial support from the Government and elsewhere. This could include:
| Financial support | How you could benefit |
| --- | --- |
| Child Benefit | available for each of your children up to the age of 16 or later if they continue in full time education. The amount for an eldest or only child is £20.70 a week, and you could be paid £13.70 for any additional children. You've probably heard that the Child Benefit rules have changed recently, you can find out more on the Gov.uk website. |
| Child tax credit | available for children under 16. Your eligibility depends on how much you earn. |
| Childcare vouchers | some employers will offer you the option of putting aside a set amount of money from your pay each month to go towards childcare costs. The advantage of this is that you won't have to pay income tax or National Insurance contributions on this amount. |
| Help from your family | many parents save on the considerable cost of childcare by receiving help from family members. You may even have someone who might want to bring forward their retirement to do this. They could have a look at Aviva's My Retirement planner calculator to see how this might work financially. |
A little additional peace of mind from Aviva
Free Parent Life cover - £15,000 of free life cover for a year, for each parent of each child under the age of four.
Our life insurance calculator can show you how much it would cost for additional life cover to help maintain your loved ones' lifestyle in the event of your – or your partner's – death.
Your savings and investment options
No matter what kind of support you're expecting to receive, it's a good idea to start saving for your new arrival as soon as you can, so you can enjoy the special moments rather than worrying about your finances.
Think about when you're planning to start a family. This will be one of the considerations which will help you decide the type of savings or investment plan that will best suit your needs.
By following the links below you can find information on some of the options which Aviva can offer you to help prepare to meet the expenses of raising a family.
A cash ISA
If you're planning on a new arrival in the next couple of years, you may wish to consider using a cash ISA to save a regular amount without paying tax on the interest you'll earn. You'll normally be able to access your money without giving notice. Please bear in mind that Aviva doesn't currently offer a cash ISA.
Stocks and shares ISAs
Maybe you're thinking further ahead and wish to invest in the stock market. If so, you may wish to consider investing in a stocks and shares ISA. You'll need to carefully consider the risks and benefits. Find out more about Aviva Stocks & Shares ISA.
We can help you with details on these and other savings or investment options. What's the right savings or investment option for me?
How much can you afford to save?
To help you think about how much to put away each month, we've developed an Investment calculator, so you can see how different monthly amounts might build up towards your goal.
If you're not sure how much you can afford, you can use another of our calculators to see how making small economies could help you save a little more each month:
Thinking further ahead
You'll be well aware that prams, nappies and car seats are only the start of it! Much has been said and written about the cost of raising a child.
The average cost of raising a child £35,000* from birth to five years old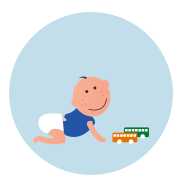 *Source: *Research carried out by ICM in November 2014. For a breakdown of these costs, please see here.
If you want to help them out, it's never too early to think about putting some money aside for their financial future, whether it ends up being used for university fees, or putting down a deposit for their first home.
To make this easier, the Government has introduced a Junior ISA (JISA) so you can save tax-free on their behalf.
A final thought about your own future...
To help ensure your own future is as secure as you'd want it to be, it's probably worth considering your pension arrangements.
The first place to go is your employer – most now provide good pension schemes. But if you do want to arrange a new pension plan, or bring together existing pension plans from other providers, Aviva can help. To find out more, take a look at our Pension.