Pension annuity calculator
Helping you understand your pension annuity income choices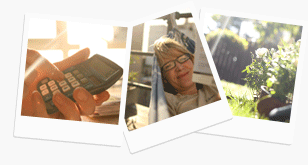 If you want an idea of how much income you may get from a pension annuity during your retirement, you're in the right place.
Is this for me?
Yes, if you:
Are 55 to 74. If you are aged 75 or over, please call us on

0800 068 3038

for a personalised quote
Have one or more

pension funds

from any provider, none of which are from a

defined benefits scheme
What do I need?
Your latest pension fund statements will help, but are not essential.
Details of any medical conditions.
10 minutes to complete
Anonymous
Secure
Save progress
Print your summary
Whatever your health or lifestyle, please answer all questions carefully to get a quote that best reflects your circumstances. For example, if you are a smoker and/or have certain health conditions we may be able to pay you a higher income.
When you've finished you can see a summary of your options, potential income and details of what to do next.
The quote you receive isn't guaranteed and we can only offer online quotes to UK mainland residents.
You can use the calculator even if you don't have a pension plan with Aviva.
Remember that you can shop around for your annuity.