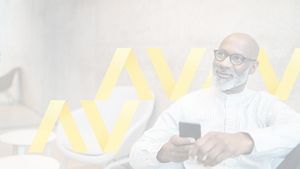 Changing ways of working… what have we gained and lost?
The workplace of 2021 is changing fast. And the pace of change is unlikely to slacken as the pandemic subsides.
Our new report, Thriving in the Age of Ambiguity, is the latest in an ongoing series of studies we began last year. We asked what employees have gained and lost in financial wellbeing as the way we work and plan for the future changes – and what employers can do to boost future resilience. Now, our findings suggest that trends gaining momentum in recent years have come to a head – with important implications for the future of work...

In pursuit of financial wellbeing: how can we fix the foundations of the future?
The great workplace exchange: what are the new rules of employee engagement?
Navigating a course into later life: how can employers help deliver a better tomorrow?
Personality outcomes: how does emotional resilience affect wellbeing in adversity?
39% of employees say their financial situation is affecting their mental health
64% of employees think complete flexibility on their working hours would make them more productive
47% employees don't know how to plan for retirement
It takes great insight to start proactive conversations on the opportunities and risks facing employers. Aviva is committed to helping employers and employees demystify the present and apply our learnings to progress towards better workforce wellbeing in the Age of Ambiguity.
How to thrive in the Age of Ambiguity
Our latest report looks at what employees have gained and lost in financial wellbeing as times change – and how employers can boost future resilience.
Download the report (PDF 10.4 MB)
---
Our personality insights
Personality type has a huge influence on employees' behaviour, mindset and personal outcomes - our infographic shows the four key types and what employers need to consider.
Download the infographic
Why the Age of Ambiguity?
Read our November report and put our latest findings into context.
Are we working from home or living at work? Aviva's original report, Embracing the Age of Ambiguity, paints a picture of a rapidly changing world of work. Old certainties are gone. Edges are blurred.

Work and home life... employment and retirement... employers and employees... the lines are no longer clearly drawn. The report records and analyses input from 2,000 employees – offering valuable insight into their hopes, expectations and motivations.

Embracing the Age of Ambiguity
Download our report from last year to find out how you can re-invigorate and support your workforce in an increasingly ambiguous world.
Download the report (PDF 9.15 MB)
Explore Business perspectives
Keep up to date with all the latest insight and opinions from our experts on a range of business challenges.
Connect with us
LinkedIn
Visit Aviva Business on LinkedIn for the latest workplace news and expert views.
Twitter
Join us on Twitter to discuss workplace issues and business news.