Wellbeing: it has to be a culture, not a strategy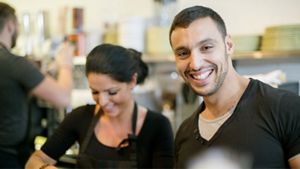 Watch Aviva's Sophie Money explain how you can make use of a resource you already have to make wellbeing work for you.
Aviva have a wealth of insight from the many businesses which we already work with, coupled with a passion for making wellbeing successful – this means we're in a good position to use this experience and knowledge to help others develop their strategies.
But wellbeing needs to be much more than a strategy. If we want the difference it makes to be a lasting one, it has to be embedded in the culture of the workplace – which means it needs to be fully embraced from within the business.
How do you make wellbeing part of the culture of your business?
Line managers have an important role to play, and many will already have a good idea of the benefits a wellbeing programme can bring. Employees who are happier, healthier, and better able to manage stress are more likely to stay put – and reduced staff turnover means saving on recruitment costs as well as keeping valuable experience within the business. Your line managers are also likely to support any strategy that helps them avoid the difficulties caused by absenteeism – and wellbeing certainly has the ability to reduce this.
But, valuable as they are in making your wellbeing strategy work, they're by no means the only asset you have. To develop a wellbeing culture, employees need to see that strategy in action at all levels of the business – and the best way to achieve this is by appointing wellbeing champions who can lead by example.
What wellbeing champions bring to the party
By working within your teams, enthusiastic individuals can lead the way by their actions as well as their understanding of wellbeing. Their natural enthusiasm will spread throughout the workplace. They'll play a key role in organising and promoting regular events – such as healthy eating, financial education, volunteering or socialising – as well as encouraging openness on subjects such as mental health. 
These individuals are worth their weight in gold, so businesses need to take care to nurture their enthusiasm so that it doesn't wane as time goes by. It's great to organise a Wellbeing Week or a Wellbeing Day – but the conversation has to continue year round.
To do this, we've found it's important to hold regular check-ins – possibly by webinar – where the Champions provide their feedback on what's working and what isn't. Check-ins also offer the chance to share good ideas right across the business and, crucially, make sure the efforts of Champions are being recognised and rewarded.
Inevitably, some members of staff will be less forthcoming than others when it comes to contacting and relying on them. For this reason, wellbeing should also be self-serviceable… an intranet page for all initiatives and resources will help these employees to find out what's available for themselves.
But this approach should complement the work of your champions, not replace it. Perhaps more than anyone, it's the Champions who make wellbeing reap rewards… so let's give them the right tools to work with.
In our short video, Sophie Money – Aviva's Group Protection Wellbeing Manager – explains how you can channel the enthusiasm of your own staff to develop and maintain a culture of wellbeing that will reap benefits for your business now and in the future.