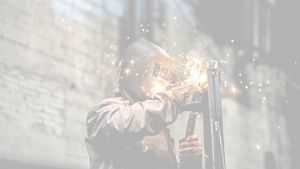 Premises, Tools and Equipment
Helping you manage, maintain and use your assets safely
For people to be able to work safely they need to be provided with the appropriate premises, tools and equipment for the work they are undertaking. This is supported by various pieces of legislation and is also one of the foundations of civil liability. Not only do the relevant premises, tools and equipment need to be provided, but employees need to know how to use them safely and they need to be properly maintained.
---
Did you know?
111
people involved in fatal
 accidents at work
 in 2019-20*1
693,000
working people sustained an injury at work
according to the Labour Force
Survey (2019-20)*1
59%
of all RIDDOR2 reportable accidents have the same three causes of injury: 1) slips, trips and falls, 2) manual handling and 3) struck by moving object. All are directly related to premises, tools and equipment*1
Guidance to help manage your premises, tools and equipment
Download our range of Loss Prevention Standards (LPS)
Our Specialist Partners to help manage premises, tools and equipment
To access these solutions at preferential rates and terms, contact our Specialist Partner.

Bonasystems​Slip Risk Management​
Bonasystems provide support on slip risk management, detection and prevention to offer businesses the opportunity to understand their slip risk (using the HSE approved pendulum test) and to implement practical, measurable solutions to mitigate this risk.​
---
Specialist Inspection Services​
Bureau Veritas offer a variety of Specialist Inspection Services including, but not limited to, asbestos management, explosive atmospheres and dangerous substances, health and safety training, indoor air and water quality including legionella control.
---
SafetyCulture​iAuditor Mobile-First Inspections Platform​
SafetyCulture's digital tools and platform allow teams to carry out inspections, spot issues quickly and easily and improve worker understanding. By surfacing exactly what matters, people in teams can act to improve their business and mitigate risk.
---
Safety Media​
Online Health and Safety e-Learning​
Safety Media offer an online health and safety platform that supports delivery and recording of integrated training solutions to ensure compliance and the safety and wellbeing of your employees.​
Services available from our Specialist Partners
Need further help or assistance?
Call our Risk Help Line to speak to our Risk Management Solutions team for help and advice on
Opening times: Monday - Friday 9:00am - 5:00pm
Email us at: riskadvice@aviva.com
Calls to 0800 numbers from UK landlines and mobiles are free. The cost of calls to 03 prefixed numbers are charged at national call rates (charges may vary dependent on your network provider) and are usually included in inclusive minute plans from landlines and mobiles. For our joint protection telephone calls may be recorded and/or monitored.
* Contains public sector information licensed under the Open Government Licence v3.0.