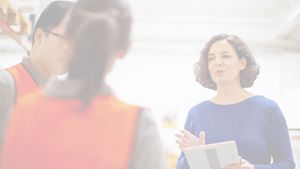 Management of Health and Safety
Helping you keep everyone safe
Manging health and safety is about looking after your business, people and reputation. As an employer, you're required by law to protect your employees and others from harm. To do this effectively  you need strong leadership and management, a trained and skilled workforce and an environment where people are trusted and involved.
---
Did you know?
325
cases were prosecuted or referred to the Crown Office and Procurator Fiscal Service (COPFS)
for prosecution in Scotland, by HSE where
a conviction was achieved in 2019/20*1
7,075
total notices issued by HSE
 in 2019/20*1
£35.8 million
total fines for health and safety offences prosecuted
by HSE and, in Scotland, the Crown Office
 and Procurator Fiscal
 Service (COPFS)*1
Guidance to help manage your health and safety
Download our range of Loss Prevention Standards (LPS)
Our Specialist Partners to help manage your health and safety
To access these solutions at preferential rates and terms, contact our Specialist Partner.

Cardinus Risk Management
Health and Safety Assessments ​
Cardinus Risk Management provide Health and Safety Assessments and comprehensive reporting. This service helps identify general health, safety and welfare hazards as well as who is at risk and details a set of recommendations for risk.​
---
The Royal Society for the Prevention of Accidents (RoSPA)​
Health and Safety Training​
RoSPA offer an extensive range of safety training courses from NEBOSH to one-day risk assessment training. Their courses can be delivered in classroom style around the UK or in-house within your organisation.
---
SafetyCulture​iAuditor Mobile-First Inspections Platform​
SafetyCulture's digital tools and platform allow teams to carry out inspections, spot issues quickly and easily and improve worker understanding. By surfacing exactly what matters, people in teams can act to improve their business and mitigate risk.
---
Safety Media​
Online Health and Safety e-Learning​
Safety Media offer an online health and safety platform that supports delivery and recording of integrated training solutions to ensure compliance and the safety and wellbeing of your employees.​
Services available from our Specialist Partners
Need further help or assistance?

Call our Risk Help Line to speak to our Risk Management Solutions team for help and advice on 
0345 3666 666 2
Opening times: Monday - Friday, 9am - 5pm
* Contains public sector information licensed under the Open Government Licence v3.0.