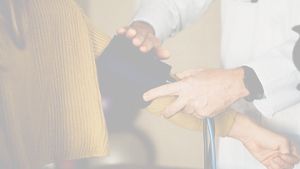 Occupational Health
Helping you keep your people healthy and safe at work
Occupational health is concerned with the health and welfare of people at work. The management of occupational health helps you to keep employees healthy and safe while working for you, and manage any risks in the workplace that are likely to cause work-related ill health.
---
Guidance to help manage your occupational health
Download our range of Loss Prevention Standards (LPS)
Tools and related content
Our Specialist Partners to help manage occupational risks
To access these solutions at preferential rates and terms, contact our Specialist Partners.

Arco​
Personal Protective Equipment ​
Arco specialise in the safety and supply of workwear, footwear, personal protective equipment, safety training and consultation.​
---
BACK-TRACK Europe Ltd​
Manual Handling Wearable Solution​
BACK-TRACK help to bring greater awareness of back health to the workplace. Utilising wearable sensor technology, the wearable device (worn on a belt) and the supporting awareness programmes helps to slow the wear-and-tear process on the back and can reduce absence and injuries for those whose tasks involve repetitive lifting and handling.​
---
DENIOS​Hazardous Materials Storage and Handling​
DENIOS specialise in the design, manufacture and supply of hazardous materials storage and handling solutions. They offer standard and bespoke storage solutions and technical support.​
---
DorsaVi​Manual Handling Wearable Technology​
DorsaVi are a wearable sensor company providing solutions for manual handling activities. Their workplace solutions allow accurate measurement of movement and muscle activity in real time and real environments. This allows you to take your risk assessment of manual handling activities, or office working, to the next level.​
---
The Royal Society for the Prevention of Accidents (RoSPA)​
Health And Safety Training​
RoSPA offer an extensive range of safety training courses from NEBOSH to one-day risk assessment training. Their courses can be delivered in classroom style around the UK or in-house within your organisation.
---
SafetyCulture​iAuditor Mobile-First Inspections Platform​
SafetyCulture's digital tools and platform allow teams to carry out inspections, spot issues quickly and easily and improve worker understanding. By surfacing exactly what matters, people in teams can act to improve their business and mitigate risk.
---
Safety Media​
Online Health and Safety e-Learning​
Safety Media offer an online health and safety platform that supports delivery and recording of integrated training solutions to ensure compliance and the safety and wellbeing of your employees.​
---
Services available from our Specialist Partners
Personal Protective Equipment
Product
Arco offer a wide variety of face coverings and face masks, eyewear, hearing and head protection, gloves, safety footwear and clothing, suitable for both COVID-19 control and wider occupational health applications.

e-Learning Training
Training
Safety Media provide e-Learning training solutions for all businesses – large, medium or small in size. They have a library of over 100 health, safety and compliance courses and all relevant course content is RoSPA approved. 
Hazardous materials storage and handling solutions
Product
Businesses of all sizes and in every industry work with hazardous materials every day. Storage and handling of these materials is critical to help prevent significant harm or damage resulting from either ignition or spillage. DENIOS design, manufacture and supply hazardous materials storage and handling solutions. 
Need further help or assistance?

Call our Risk Help Line to speak to our Risk Management Solutions team for help and advice on 
0345 3666 666 2
Opening times: Monday - Friday, 9am - 5pm
* Contains public sector information licensed under the Open Government Licence v3.0.