Menopause is a business issue: what can employers do to help?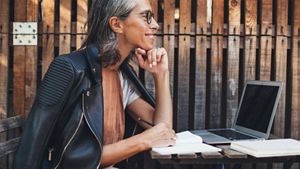 Aviva UK Health Medical Director Dr Doug Wright discusses ways to support employees experiencing the menopause and help them stay in work.
One in 10 people passing through the menopause leave the workforce because of the difficulties they encounter 1 – and as many as one in four consider doing so. 2 It's clear from this that many employers will be losing people they value, and will find costly to replace, due to the effects of a wholly natural transition that affects around 13 million people in the UK at any given time.3
We believe there's a lot we should and can do to improve this. Tailored support can fundamentally alter the working experiences of people experiencing the menopause, and lead to a more inclusive workforce.
The symptoms of menopause can last for years and are experienced differently, and at different times. Physically, they include hot flushes, aches and pains, tiredness, irregular or heavy periods and problems sleeping. Psychological symptoms can encompass mood swings, memory issues, anxiety, and a lack of confidence… all of which can impact performance and happiness at work.
Employers have a duty of care to ensure that all reasonable adjustments are made for colleagues who are experiencing the symptoms of menopause. And it's very much in their interests to do so – apart from the risk of losing a key employee, it makes good business sense to enable them to work in conditions that make it easier to perform to the best of their ability.
4 steps to support your employees experiencing the menopause
1 Review your existing policies

By making sure that your HR policy offers support to people experiencing the menopause, and possibly setting up a specific policy relating to it, you can help employees to understand exactly what support they can expect to receive and also signal that their organisation is gender and age inclusive.
2 Put mental health support in place
There are established links, such as the Harvard Health 4 study, between menopause and mental health, with menopause often being associated with depression.
It can be tricky to unpick the underlying cause of poor mental health. This could be caused by a range of factors in addition to hormonal changes – anything from lack of sleep to changes in personal circumstances. But it's possible to offer support which is effective no matter what the causes may be.
By providing your line managers with training to identify and address signs of worsening mental health you can promote an open, supportive culture and help to tackle any issues before they can lead to more serious problems, or potentially long absences from work. Your workplace benefits package provider should be able to help here.
3 Make sure employees know where they can get help
It's key to ensure that your people know where to find resources and external guidance if they feel their symptoms need further medical support. If you have an employee assistance programme (EAP), this could include access to guidance from external voluntary organisations or support groups – sometimes available online or through an app – offering specialist guidance on managing menopause symptoms.
4 Offer practical support and flexibility
By taking a few relatively simple measures – which you could set out in a menopause policy – you could help affected employees to work comfortably and effectively, and give them the reassurance that you're sensitive to their needs. These measures could include:
Offering flexible working – including the option to work from home – for those who are experiencing poor sleep.
Making it clear employees can take short rest breaks, or sit out a meeting, if their symptoms are causing them difficulty.
Relaxing dress codes – for example, looser clothing helps with hot flushes.
Making adjustments such as providing a fan, or relocating an employee closer to a window, to help them to cool down.
Where to find more help
Our Menopause in the workplace employer's guide has more details on how to support your employees, together with links to other dedicated resources.