How to spot if your employees are burning out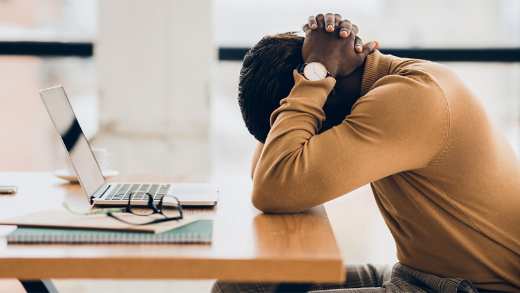 Aviva's Dr Doug Wright looks at how to spot the signs of burn-out and what you and your employees can do to prevent it.
Flexible working can be a great thing, but it may also encourage employees to be 'always on', which isn't healthy. With laptops, tablets and mobile phones being key tools and constantly available, some employees may feel pressure to be checking them and working at all hours of the day.

But as an employer, how do you address this so you are able to spot the signs and step in to help?
What is burn-out?
Burn-out is a psychological, physical and emotional state people can find themselves in when they've been dealing with poorly managed stress for a long time. It has three characteristics:
Feelings of exhaustion or lack of energy
An increased detachment or having a cynical or negative outlook
Feelings of reduced professional ability
Burn-out is becoming increasingly common in the workplace [1]Footnote 1. In 2019, the World Health Organisation added burn-out to their international classification of diseases as an 'occupational phenomenon' rather than a medical condition.
While short-term pressure can be good for us, employees faced with a prolonged period of stress risk being exhausted, unmotivated and ineffective. And this can have a knock-on effect across your whole workforce.
The seven signs of burn-out
With burn-out a real possibility, here are seven signs in your employees to look out for:
Working longer hours
Too many priorities
Lack of participation
Negative attitude
Making mistakes
Difficulty concentrating
Forgetfulness
While some signs of burn-out are obvious, sometimes an employee won't recognise they're slipping into that situation. In these cases, it's important their line manager has the training and awareness to notice the situation and step in to give the right support at the right time.
What can you do to prevent burn-out?
Encourage an open and honest workplace culture – it will help you and your employees connect with each other in a more positive way
Put specific HR policies in place – make sure you manage workloads to a sustainable level and your employees have enough time to relax and recover after a busy, stressful day at work
Notice changes in working patterns – keep an eye on whether team members are sending emails outside work hours
Be aware of workloads and deadlines for team members – make sure workloads are manageable and notice when employees are asking for help with their work
Notice behaviour changes – be aware of mood swings, energy levels and how employees are interacting with other team members
Balance work allocation – make sure you allocate work proportionately
Think about giving back time – if an employee has had a significant workload for a period of time, try to give them back some time with leave or by working fewer hours
Signpost to support – make sure your employees know where to find support from your wellbeing programme
Practice what you preach – as a leader, you need to model the behaviour you want your employees to follow, so don't be the one working at all hours and expecting responses out of office hours
Look after your own wellbeing – remember your team are likely to follow your example
Burn-out tips for employees
Of course, it's not all one-sided. Your employees can take steps to look after their own wellbeing and prevent burn-out too. Here are nine tips for you to share with your employees:
Be conscious of your working pattern – notice if it changes, if you're working longer or not taking breaks

Talk to your manager – let them know if you feel unable to cope with or keep up your workload
Talk to your colleagues – don't be afraid to ask for a helping hand if you need it
Take back time – if you've worked beyond your normal working hours, think about how you can take some of that time back for yourself
Take note of your moods – recognise changes to your mood and behaviour
Do something to help you switch off – do an activity you have to focus your attention on, for example, cooking, exercising, reading, drawing, making something
Use the wellbeing support available to you – check what your employer offers to help you manage your stress levels
Take your own advice – think about what you would say to someone else in your position and act on that advice
Take time away – your mind and body can't run on full power all the time, so being able to rest and recharge is one of the best ways to prevent burn-out, including getting good quality sleep
Doug Wright, Medical Director, UK Health, has over 30 years' experience in healthcare. His past roles include being a practising doctor in hospitals and as a GP and now he leads the clinical team at Aviva. He is an Aviva spokesperson specialising in healthcare and health insurance matters and is regularly featured in the media as well as presenting at industry conferences.