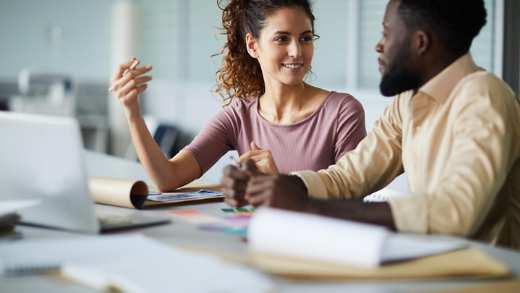 Duties start date for auto enrolment
Your responsibility for auto enrolment begins on the day your first member of staff starts work. This is called your 'duties start date'. On this page you can find out more about what this involves – and what to do if you miss it.
When do my auto enrolment duties start?
For any new employee, your duties start date will be the same as the date you start paying them through the PAYE system. So, if you're becoming an employer for the first time, you need to know exactly what to do before your first employment contract starts. If you haven't already visited our auto enrolment in eight simple steps guide, this is a good place to start.

If you've decided that Aviva are the right provider for your workplace pension scheme, we can help you set up everything in time. 

You'll also need to contact The Pensions Regulator to keep them up-to-date with what's happening.
What if I've missed my duties start date?
If you've already missed your duties start date, it's important to take action right away. You have a legal duty to comply with auto enrolment regulations, and you could be fined by The Pensions Regulator if you don't.

If you don't already have a workplace pension, you need to:

Set one up and automatically enrol your eligible staff.
Pay any pension contributions that you owe, dating back to your duties start date.
You also need to bear in mind:

You may not be allowed to recover any backdated employee contributions from your employees' pay, so you might have to pay their contributions as well as your own. This means that the longer you leave it, the more it could cost you.
You should seek suitable advice if you don't intend to pay the whole value of missed contributions yourself. 
Opt-outs will still work from the point at which the opt-out window opens. 
Re-enrolment will have to take place three years from the date your duties should have started, not the date you actually completed the process.  
Can Aviva help me if I've missed my duties start date?
If you've missed your duties start date, Aviva can still set up a workplace pension scheme for you to start now. However, we won't be able to backdate this to your duties start date. We'll work with you to help you get back on track with auto enrolment – you'll have our full support throughout the process.

Although Aviva's software can accommodate the changes needed to rectify a missed duties start date, this isn't the case for all providers. If you have a different software provider, you'll need to check with them to find out if your system will be fully functional.
What happens if I don't take action?
If you're finding it hard to understand your auto enrolment duties, or you've been unable to comply for any reason, The Pensions Regulator can work with you to help – but it's important to contact them as soon as possible.

If you don't start taking steps to comply with auto enrolment regulations, The Pensions Regulator is likely to take action against you, and you may be fined. 

Find out more about auto enrolment rules, fines and penalties.
Find out more about auto enrolment
Auto enrolment doesn't have to be challenging. We've got all the information you need to get up and running with your workplace pension scheme.
Aviva Workplace Pension
Our workplace pension is designed to give you a scheme that's easy to set up and administer, ideal for your auto enrolment needs.

Find out about the Aviva Workplace Pension
Advisers
Find out how we can help you support your clients with auto enrolment.