How our workplace pension works with your payroll
How our workplace pension works with your payroll
Our 5-Star workplace pension is compatible with all types of payroll software, making it quicker and easier for you to process monthly pension contributions.
Payroll compatibility
Data can be exported onto a payroll file that can then be uploaded onto our MyAvivaBusiness. Depending on the payroll software you use, this can take as little as three minutes – and if there are any errors, you can correct them online in our billing portal.
Payroll integration through pensionsync
We provide a fully integrated payroll system through the following payroll software.

pensionsync acts as a pipeline to automatically deliver employee and pension contribution data directly to Aviva. This means that payments can be taken automatically each month without the need to upload data files.
Using a fully integrated payroll system helps save time, and streamlines your auto enrolment duties. It also increases security while decreasing the risk of errors by collating all employee and pension contribution data in one place.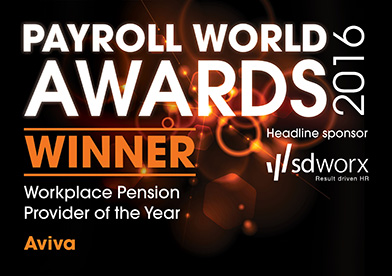 Aviva offers control and flexibility for the customer via its self-service platform, with strong client testimonials highlighting the simplicity of the offering.

Payroll World Awards 2016

London
Direct input into MyAvivaBusiness
Smaller companies might choose to simply type information directly into our billing system. As long as you know the information you need to key in, this is a simple and straightforward task.
What the scheme administrator will need to do
Regardless of how you run your payroll, we'll need the details of all employees who'll be automatically enrolled on to or have opted into your workplace pension scheme. These details need to include staff names, addresses, dates of birth, National Insurance numbers, salary and pension contributions. If you use penionsync, this information will be transferred automatically.
Alternatively, this information can be sent to us every time an employee needs to be auto-enrolled, opts in to the pension scheme, or once a month if you prefer. You'll also need to send us contribution details for all members of the scheme each month, tell us if any employees have left the company, or have no contributions to make.
We'll provide the scheme administrator with training and support materials to make sure they know how to complete their monthly duties.
Assessment and communications
Recent research shows us that 73% of employers now use payroll software to carry out worker assessment and provide relevant communications, so check your payroll software to ensure this is covered for you. If it isn't, we'll help you think about further options (including with Aviva) after you've setup your workplace pension scheme.
Take a look at what our workplace pension scheme can offer
See how you can help your clients