Looking after employees during the return to work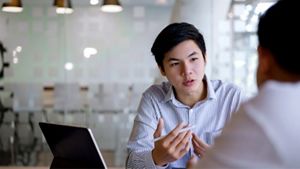 Matt Smith, Rehabilitation Manager at Aviva UK, looks at how employers can help employees feel more confident as they return to the workplace.
Little by little, the measures designed to combat the spread of COVID-19 are being lifted. Employers – like just about everybody else – are looking forward to a return to some form of normality, even if that version of normality may not be everything we'd like it to be.
As employees return to the workplace in greater numbers, it's important to prepare for the challenges this will entail. As well as the necessity to provide a safe working environment, you should be prepared to deal with the concerns of the employees themselves. Preparing for 'the new normal' involves a great deal more than changes to physical infrastructure. 
Adapting to the new normal
For instance, some employees could find the transition particularly unsettling from the point of view of mental wellbeing. Facing anxiety about catching the virus, or passing it onto loved ones, many will have found comfort in the comparative safety of lockdown and could now feel reluctant to trust their health to the actions of others. Change is still change – even when it involves a return to familiar surroundings – and you should recognise their concerns and try to do all you can to reassure them.
Another issue in maintaining motivation and morale is the possibility that some employees who have remained in the workplace throughout could be resentful of others who are only just returning now – or may still be working from home – whether due to ongoing family responsibilities or the nature of their work.
It's important to encourage regular one-to-one sessions with managers, where employees in all situations can discuss any frustrations openly. The present circumstances make this a good time to initiate this approach or offer additional opportunities for this kind of dialogue. 
Aviva have prepared a concise life after lockdown guide, covering guidance on the working environment as well as supporting employees' wellbeing. The guide contains information on spotting the signs that an employee may be struggling to cope, and may need assistance to maintain good mental health (although their GP would still be the right first port of call for individuals in this situation). It's also well worth considering setting up an employee assistance programme, offering access to counselling and other support, if you don't have one already.
Preparing the workplace, reassuring the workforce: five key messages
The government has promoted five key messages in its guidance for employers as they look to control the risk of COVID-19. For the reasons mentioned, it's important to think about how you can reassure employees that you've acted on these guidelines, as well as taking care of them in practical terms. The communication process ideally needs to start before employees return to work, so that they're more confident to do so. Explaining your response to these five messages would be a good place to start:
Carry out a COVID-19 risk assessment
You should consult with your employees and their representative bodies as you carry out a risk assessment, so you can anticipate potential challenges. It's equally important to share the results of your risk assessment, so employees can see the steps you've taken to protect them. It may also help them to understand their own responsibilities in helping to keep themselves and their colleagues safe.
Develop cleaning, handwashing and hygiene procedures
You should encourage people to wash their hands thoroughly and often, and provide effective hand-drying facilities and sanitisers around the workplace. Surfaces and objects which are touched regularly – such as door handles and lift buttons – should be cleaned and disinfected more frequently.
Maintain two metre social distancing wherever possible
It's important to make employees aware that you won't be relaxing the social distancing measures too early. You can encourage effective social distancing by displaying reminders of the guidelines and avoiding sharing workstations. You should also mark out areas to be kept clear and, if at all practical, introduce one-way systems.
Even after taking these measures, it still makes sense to conduct meetings remotely where possible.
 Where people can't stay two metres apart, manage transmission risk
Acknowledge that it won't always be possible for people to remain two metres apart, if this is the case. By using screens and barriers, adopting back-to-back or side-to-side working and staggering arrival and departure times, you can help to reduce risks. Try to minimise time spent on tasks where social distancing is harder.
Where reasonably possible, help people to work from home
The possibility of a return to work shouldn't overshadow the role that remote working still has to play in protecting employees. If you do have employees who are working from home, this could be a good time to make sure they have everything they need – including the regular contact and emotional support they need to stay motivated and feel fully engaged with the rest of the team. Everyone's an individual, and some will need more help than others in maintaining their mental wellbeing.
Where to find help
You may also find these links useful:
Matt Smith studied Rehabilitation Counselling at the University of Sydney as well as having a BSc in Sport and Exercise Science. After university, he worked in vocational rehabilitation in Australia, helping people with injury or illness return to work safely. He returned to the UK and began working for Aviva in April 2014. Matt is the Rehabilitation Manager for Aviva's Group Income Protection area and also a Trustee on the board of the Vocational Rehabilitation Association (VRA).