The emotional impact of opening up society – how it may affect your employees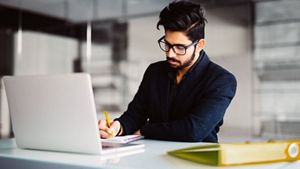 Debbie Bullock, Aviva's Wellbeing Lead, talks about why the end of restrictions may not mean the end of anxiety for some people.
We all deal with change in different ways. Some will see it as an opportunity, a time to reassess the current situation and introduce improvements. For others, the uncertainty of change can be more difficult.
As an employer, you'll recognise that your workforce is the foundation without which your business simply cannot operate. And in times of economic uncertainty, looking after the health of your employees is more critical than ever. This is especially important when it comes to managing a safe return to the workplace.
The pace at which employees return to the workplace will vary according to the nature of each business, as well as the personal circumstances of its employees.
The end of restrictions can be an unsettling time for some, with many feeling anxious about reverting to life as we used to know it.
We've put together some hints and tips to help those suffering from anxiety about society opening back up. Even if you're not feeling anxious yourself, it's worth reading this to understand how you can support others in your team or social circles who may feel that way.

Focus on the positives

Take pleasure from the little things you can enjoy again. It could be a takeaway coffee from your favourite café, catching up with a friend or colleague you haven't seen for a while or getting the team together again in the office. 
Record and appreciate good things as they happen. 
Take opportunities to reset and relax. 
Be kind to yourself

Recognise how you feel and let yourself feel it. It's understandable to feel a mixture of emotions right now. Some people are excited to get back to normal, but just as many are feeling anxious about returning to situations they haven't been in for some time. 
Don't expect to snap back to how things were. Every time we go back to something it is going to feel unusual or maybe even scary because we've forgotten how it feels or because routines or ways of working have changed.  
Don't judge yourself based on other people. We're all unique and we're all doing the best we can. We can only move through fears by gently building up tolerance. 
Give yourself time

Let yourself go at the right pace for you, but don't let that be an excuse not to push yourself, especially when it comes to reconnecting with others outside your home, stopping wearing masks and so on. 
Challenge yourself every day or every few days to do something new or something you haven't done for a while. Don't beat yourself up if it doesn't go well but keep at it. Keep a note of things you've achieved, enjoyed or surprised yourself doing. Try and vary your routines so you see different people and encounter different situations. 
Talk about how you feel with your family, friends and line manager. It's important to acknowledge how you're feeling, but make sure you're also allowing other people to move at their own pace.  
Look after your overall wellbeing

Taking care of your physical health can help you to cope with feelings of anxiety and stressful situations when they arise. 
Try to eat a healthy diet, limit alcohol, exercise regularly and get good-quality sleep. 
Take time out to look after yourself. Try a few different things until you find what works for you. You could try reading a book, practise mindfulness, get creative, bake or go outdoors for some exercise. Spending time outside in green, open spaces can have positive effects on your wellbeing.
We've also produced two guides you may find useful as your employees begin to return to the workplace:

Life after lockdown – a step-by-step guide to helping employees adapt to their new working environment

Staying on track – looking after your mental health and wellbeing at difficult times
Let them know you're there to help

It may take a while before everyone feels completely at ease returning to the workforce, both for those who haven't been back in at all and those who have.

It's important to remember that employees who may have been in the workplace throughout the pandemic for whatever reason may be feeling anxious about more people returning.

The best thing you can do is acknowledge the situation and recognise it's different for everyone. And most importantly, make sure you let your employees know it's all right to feel the way they do and that you're there to support them.

Debbie Bullock, Wellbeing Lead, successfully leads the strategy and delivery of the award winning Wellbeing@Aviva programme in the UK for 16,000 colleagues. She regularly shares her experience as a wellbeing practitioner for the benefit of both individuals and corporate organisations.