UK businesses on a tricky tightrope: Risk Insight report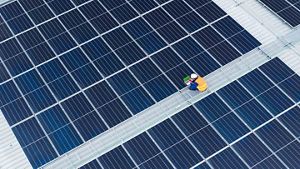 Our annual risk report reveals UK businesses are walking a fine line in their confidence of the economy, supply chain concerns, and labour shortages
Tip-toing across a thin wire in mid-air isn't for the faint of heart. It takes practice, patience, and a certain rebellion against the laws of nature, particularly gravity. For the professionals, it also means constant risk assessments thousands of feet in the air.
According to our third annual Risk Insights Report [1]Footnote 1, which surveyed more than 1,200 UK senior business leaders from small, mid-market and corporate businesses across nine industries, this experience may be familiar for UK businesses.

From economic pressures and cost of living concerns to supply chain challenges and labour shortages, UK businesses aren't just walking a tightrope at dizzying heights. They're doing so while juggling all manner of circus animals and without always knowing how many steps will get them to solid ground.

Teetering confidence in the economy

Global economic turmoil, driven by inflation, growing energy costs and political instability, is seemingly affecting businesses' confidence in the UK economy. And six of the top ten risks business leaders are concerned about relate to the economy.

In 2021 businesses' net confidence in the UK economy seemed relatively low at +5%, yet this year's results at -50% signify a steep drop. Fifty-six percent (56%) of businesses selected the economy as one of the biggest risks (26% in 2020, 37% in 2021) and business worry levels increased nearly 20% between 2021 and 2022 (58% versus 77%). 

Underpinning business leaders' worry is the cost-of-living increase, with 75% believing it will have a significant to serious impact. Nearly two thirds (63%) of business leaders say they are 'worried' about the impact of the cost of living on their business.  
Yet, in the hope of storm clouds shifting, businesses are more optimistic about their own prospects, with 49% saying they are confident about their future.

Balancing labour shortages and supply chain disruptions in post-Brexit economy

Alongside Brexit as a top five boardroom concern, with 23% of businesses selecting it as one of their biggest risks, instability across numerous social and political landscapes globally means businesses "across all sectors and of all sizes are feeling the effects of labour and skill shortages."

Forty-five percent of companies report impacts on their business from supply chain issues and, over the past 12 months, 16% of companies suffered total supplier failure. More than half of businesses (54%) are seeking changes to their supply chains, ranging from cost reviews to finding alternative suppliers.

And while one end of the (supply) rope is flapping, the other end is trying to lasso skilled labour. In the last year, however, businesses not only struggled to attract new employees (63%), but they also struggled with keeping their staff (64%). As a result, more than three quarters of business (78%) needed to adapt how they recruit and 13% significantly increased employee benefits to attract new staff.

Business insurance and energy walk the tightrope

Placing further pressure on already precarious footing is the rise in energy costs for businesses. "Should energy costs increase by five to ten times their 2020 rates," states the Risk Insights Report, "12% of businesses, including 19% of small businesses, report they would be likely to close immediately, while 45% of businesses believe they would be unlikely to last a year without additional support."

And although government support is available for some households and businesses, to offset spiralling energy costs, the amount and duration of the support is unclear. As such, 65% of businesses are taking action to save energy with 51% developing energy-saving initiatives and 29% spending capital to improve energy efficiency.  

With the pressures and uncertainties of global economic forces, businesses may find themselves in cost-cutting measures. Our research finds that, "many businesses are far from clear on the scope of their insurance" and may leave themselves exposed to the risks of underinsurance.

An estimated 50% of UK businesses may be underinsured with a fifth of businesses (21%) reducing, or considering reducing, their insurance cover over the last year. And while some 40% of policies with buildings have at least one premise that may be underinsured by 20%, an estimated 40% of properties haven't updated their insurance amount within the last three years.

To find out more, download the Risk Insights Report.