Jump through the taboo: financial wellbeing and your employees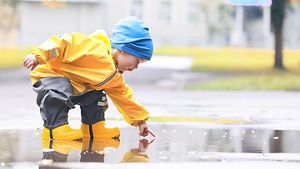 Knowing whether a taboo, an issue of trust or lack of knowledge keeps employees from talking money to employers may keep them from jumping the pond.
One of the more gratifying experiences for a young child is jumping into a puddle with pure joy and abandon. The deeper and murkier, the more thrilling. This is where the learning happens, and while you may sidestep the puddle, they're brave explorers.
As adults, the puddles may take different form. They may be an awkward conversation we hope to avoid or a topic we jump clear across. 

In the workplace, there may be some subjects that remain taboo. Our latest research found that almost three-quarters of employees (73%) have never spoken to their employer or line manager about their financial wellbeing. When asked who they would trust most to guide them on pensions and long-term savings, respondents prioritised their
own research
pension scheme provider
financial adviser
family and friends
independent financial adviser
government
bank
ahead of their employer, HR manager or line manager.[1]Footnote 1 That's seven places they would approach before work. And although younger employees show more willingness to speak with their employer about financial wellbeing, with a quarter of 18 to 24-year-olds doing so often, a significant portion of 35 to 44-year-olds (70%) and 45 to 54-year-olds (86%) don't approach their employers for financial guidance.[1]Footnote 1
As an employer, have your wellies at the ready because this raises some questions.
Is there really a puddle?
It depends on who you ask.

There's a difference between employees actively seeking to avoid a topic of discussion or guidance and them doing so because they're unaware of it.

It may be that certain generations of employees are uncomfortable mixing personal with professional; they don't believe it's appropriate to discuss finances at work or with their employer. It may be a remnant of historical business practices and a matter of personal pride. With only 5% of 45 to 64-year-olds speaking to their employers about financial wellbeing, this may also indicate that the start of their pension and savings journey advice started elsewhere.[1]Footnote 1

On the other hand, some employees may not know they can speak to their line manager or HR about financial matters.

They may feel awkward or worried about approaching their employer about financial concerns. Or they may not understand the benefit of exploring financial wellbeing through their workplace.

Recognising whether the cause is based in a taboo, passed down through generations of workplace culture, a lack of information and education or an unapproachability within the business could help you connect with your employees.

Whether a taboo or not, it certainly seems an area for education and development.
Should you care about it?
Yes, you should.
Not only is helping employees with their financial wellbeing morally appropriate, but there's a solid business case for it. "There is plenty of good research evidence," according to the CIPD, "to show that financial wellbeing is an important aspect of HR strategy." The CIPD further notes that,
Research consistently shows that financial distress relates to health outcomes, including dysregulated production of the hormone cortisol, key to dealing with stress, and self-reported health. In turn, these can influence performance and absenteeism."2
Employee confidence about financial health directly impacts their work.
Being a business that helps their employees with financial wellbeing is just good optics, too. Done well, this is a workplace benefit to highlight when hiring; it shows prospective recruits a commitment to growing in partnership with employees. Long term, this could help increase retention as an applicant may come for the job but remain for the relationship built.

Here, we are jumping in the puddle together.
Are some businesses better equipped?
Not necessarily.

When asked if employees are actively encouraged to speak with their managers about financial concerns, more than two thirds of employers (67%) responded 'yes' in our study. And while more than half of SME employers responded 'yes', businesses with 250-5000 employees overwhelmingly (86%-87%) encourage their staff to speak with managers about financial matters.[1]Footnote 1

This may suggest that larger businesses are more able to resource and prioritise financial wellbeing for their employees. Yet, if so few employees are taking advantage of these resources, then there's a disconnect.

It's not about the availability of welly boots, or how equipped a business is to provide financial literacy resources – it's about letting people know they're available, giving them a shoulder to lean on, and being willing to slosh around with them.

What can you do about it?

Guiding your employees through financial wellbeing, and developing initiatives that encourage employees to feel comfortable speaking about finances at work, is possible. Here are four actions you can take to make the puddle a little less murky and a lot more inviting.

Survey
Before any initiatives are developed, it's important to recognise that your employees aren't a homogenous group; they have different priorities, values and needs.

A survey may help you to identify if there's a workplace taboo around talking money or if it's simply a lack of understanding, priority, or interest. Once you have this information, a further survey may allow you to identify who would like financial wellbeing guidance and (perhaps most importantly), how they would wish to receive it.
Train
Although it isn't (and shouldn't) be a manager's responsibility to provide financial advice or guidance, it's part of their role to care for employees' wellbeing.

When a manager is approached by an employee about financial concerns, will they know how to make the employee feel comfortable in the conversation or know which resources may help?

Training managers on supporting employees' financial health may be more about listening, directing, and building trust rather than about advising.
Invite
Encouraging employees to see their workplace as a valuable source of guidance on financial matters may be about pulling them into the right puddle with the right sized wellies – not pushing them into one.

Developing a hub of resources, based on employee journey and life stage, may be a way to invite employees' attention to their financial wellbeing.

Employees in their 20s may want a packet of resources, perhaps videos or workshops, on managing debt, budgeting and beginning their pension journey. Employees in their mid-30s may want a packet of resources on buying versus renting, budgeting around childcare/maternity and reviewing/adjusting their pension journey. Again, this is where surveys can be instructive and powerful tools.

Having resources appropriate to an employee's financial journey, and their progress over time, is perhaps the greatest service you can provide.

Challenging or reviewing workplace culture takes time and effort. But if it means happier, more stable employees, then let's jump in with both feet.
To explore the latest on insights from the workplace, read the Aviva Working Lives Report 2022: The Big Squeeze.