Are your employees ostriches when it comes to pensions?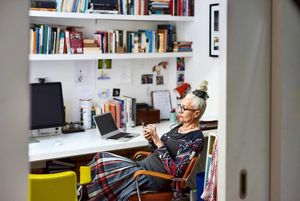 With research showing 47% of workers don't know how to plan for retirement, businesses must step up to avert a retirement income crisis.
Saving into a pension is an important step in providing an income for retirement. However, Aviva's Thriving in the Age of Ambiguity report (PDF 11.1MB) shows people are unsure about pensions and how to plan for their retirement. In fact, many are simply sticking their heads in the sand over the issue.
The report reveals just 27% are confident they know what a 'good' amount to have in their pension is for someone their age. It also shows fewer than one in three people (28%) feel secure in their knowledge of how to manage their pension as they get closer to retiring.

Women are also twice as likely as men to feel completely on the back foot (21% versus 12%) with preparing and saving for retirement. They are also more than twice as likely as men to be in the dark about how to manage their pension as they get closer to retirement.
More than two in five pushing retirement to the back of their minds
The findings come despite nearly 10 years of auto-enrolment encouraging more people to save through the workplace, backed by guidance services like Pension Wise to help them understand their pension options. But our research shows accelerating change and ambiguity have left many people confused about their future.
The pandemic has played its part with the number of people in work who say they know how much they need to save for retirement falling sharply from 61% in February 2020 to 52% now.

More than two in five (42%) admit they haven't even started thinking about retirement yet. Worryingly, this includes 39% of Generation X workers aged 40-54, who have put any thought of retirement to the back of their minds.

As a result, nearly three in four (74%) of Generation X workers feel they will have to work much longer until they retire. This figure rises to 79% of Generation Y workers aged 25 to 29.
Workers looking for employers to help their transition into retirement
There is currently a retirement savings gap in the UK.  Our research pinpoints the workplace as a key battleground in the national effort to address this issue. Many workers trust their employer to help them identify how much they need to pay into their pension to live well once they retire.
We found nearly three in five (59%) employees would be open to receiving pension planning support at work. Almost one in four (23%) adults would like to be offered support on how to manage their pension as they approach retirement.

More than half (51%) also believe they will need support from their employer to create an easier transition into retirement, such as flexible or part-time working. Two in five (41%) are worried about being able to retire when they want to – significantly more than the 31% worried about how much they currently get paid.
Combatting the head-in-the-sand mentality around pensions
With so many employees avoiding thinking about what they may need in the future, there's a definite need for employers to step up and offer more financial education.
Mary Harper, Managing Director of Aviva Financial Advice, says: "It's easy to put thoughts about later life to the back of your mind but investing time in thinking and planning ahead can make a world of difference to your options. Many people are crying out for greater help from their employers to help them manage their finances ahead of retirement.
"It's important people have sufficient financial knowledge to make the right decisions for them at the right time. Our research shows employers have a key role to play in filling the pensions preparedness vacuum. Access to a combination of information, guidance and advice through the workplace can help people make the most of their money in the long term."
You can make a difference
So how can you help? Here's some useful tips to look at ways to encourage your employees to engage with their pension.
You can make a difference by making sure your employees know about your workplace pension and the benefits it brings. And if you can offer your workforce more in the way of financial education, all the better. By helping them understand more about their future finances, you'll be giving them the best chance for better retirement outcomes.