Mid-life MOTs… an employees' tune-up for a better retirement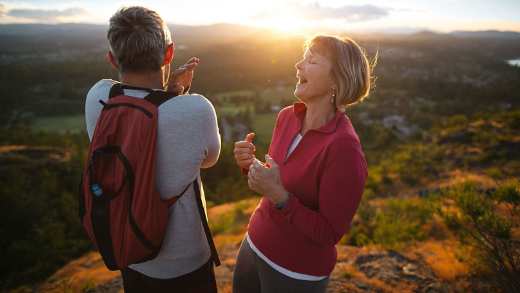 The journey to retirement is a long one, and plenty can change along the way. That's why it's worth making sure your mid-life employees have checked that the pension choices they made decades ago are still fit for purpose.
As we live longer, the mid-point of our lives continues to shift. Some of us will still be able to retire in our 50's, but for lots of people the retirement age is creeping up. In the next decade, more adults will be saving for their retirement than ever before and more will be reaching an age when they have choices to make about their retirement plans.
Part of being a supportive employer is about looking out for the wellbeing of your employees, whether that' physical, mental or financial. Building resilience in these areas is important – for the success of the business as well as the individuals within it. Making sure your older employees are prepared for life beyond work is definitely an area where an employer can help.
A less certain road ahead
We've now entered a time when the future can seem more ambiguous, with less certainty about when retirement will come, or whether it will be a gradual process. Many of us can expect to work for longer. This will bring opportunities, but it's important to invest in ourselves now, to make sure we remain open to them. The mid-life MOT is just such an opportunity, checking how personal finances are running and covering the wellbeing implications associated with this.
Like servicing a vehicle, this type of MOT may simply serve to put employees mind at rest that no major overhaul is needed. Or it may suggest some adjustments are needed – though these will always be carried out at the discretion of the driver, not the mechanic.
At Aviva, we invite all our employees to see if such a service is needed when they reach the appropriate life stage.
Why more of us may need to drop in for an MOT
Until quite recently, life for an average person of employment age was fairly set: 
Start work after school, further training or university
Get married, buy a house and have children, perhaps take some time off to look after children.
Continue working until retirement age – which could be as early as 50 and on a final salary pension.
Although historically life expectancy was lower, a retiree could look forward to a few decades of living the retired life on a comfortable income.
Steer ahead to the present, with rising retirement ages and few of us are lucky enough to hold a final salary pension. Our employment, like our personal lives, tend to be more fluid than may have been the case for our parents.
A mid-life MOT – more than just an oil change
We offer Aviva employees a seminar with experts in personal finance. As an employer, you could find this approach a valuable addition to your own employee assistance programme. It could give your people, aged in their 40s, 50s or 60s, the tools to review their plans at such a crucial stage in their lives.
By offering them the opportunity to take a mid-life MOT, you can help your employees make sure they're making the right choices... in circumstances which may well have changed a lot since they last took a long hard look at their finances.
You can extend the MOT to look at the family as a whole, helping your employees examine wider commitments and circumstances. Parents, for instance, may be looking for a way to help their children get on the property ladder… and now could be the ideal time to investigate their options.
The digital tune-up option
Aviva's Mid Life MOT app is available to download for free. It's specifically designed to help people aged 45 and above to take stock of their current situation. It offers them a self-led check up on their wealth, work and wellbeing.
It takes financial confidence to build the resilience employees need to feel at ease in a fast-changing work environment. This is where our mid-life MOT programme can make a difference. To find out more, get in touch with your Aviva contact.
Available from both the Apple Store and Google Play, the Aviva Mid-life MOT app is free to download and simple to use. Mobile data charges may apply and the T&Cs can be viewed within the app.