How a mid-life MOT can prepare employees for a better retirement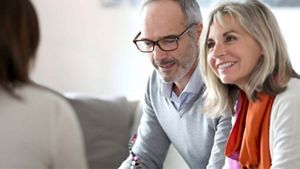 It's worth making sure your middle-aged employees have checked that the pension choices they made decades ago are still fit for purpose.
As we live longer, the mid-point of our lives continues to shift. Some of us will still be able to retire at 55, but for lots of people the retirement age is creeping up. In the next decade, more adults will be saving for their retirement than ever before and more will be entering the age of pension freedoms.
Part of being a responsible employer is about looking after the wellbeing of your employees, whether that is physical, mental or financial. Building resilience in these areas is important, and for your older employees, making sure they're prepared for life beyond work is definitely an area where you can help.
While many employees are aware of higher retirement ages, not everyone has looked at whether they need to change their plans for the future. That's why we've introduced a mid-life MOT for all our employees, to help people meet the challenges and opportunities of a fuller working life. We want to make sure they're in good physical, mental and financial health as they head into the last few decades of their working life. 
It's a non-standard life
Until quite recently, life for an average person of employment age was fairly set: 
start work after school, further training or university
get married, buy a house and have children, perhaps take some time off to look after children.
continue working until retirement age – which could be as early as 50 and on a final salary pension.
Life expectancy was lower, but a retiree could look forward to a few decades of living the retired life on a very comfortable income.
Fast forward to now and few of us are lucky enough to hold a final salary pension, plus the retirement age is currently 65/67, but likely to rise again. There is no "standard" life, as there may have been for our parents — our employment is far more fluid, but so too are our personal lives.
We're living longer too, which means our pension pots may need to last us an extra 10 years, maybe 20. Any of these scenarios could apply to you or your employees:
Buying a house at a young age is a far more difficult ambition for younger people today than it was for anyone older than 40.
Offspring are often still living at home well into their 20s (or moving back in) and some may need ongoing assistance from the "Bank of Mum and Dad." 
Others in their 40s may still have small children as the average age of first-time parents continues to rise — more parents are having children now in their 30s than in their 20s.
Since the expansion of options on how to take money from a pension, retirees are no longer obliged to take out an annuity or drawdown income. There are now other options and features available that may be more suitable.  Some may be able to cash in their entire pension pot, but need to understand the tax and long-term retirement implications.
A mid-life MOT — more than just an oil change
We offer our employees a seminar with experts in the field, and as an employer, this could be a valuable addition to your employee programme. It gives employees aged 45 and over the tools to review their plans at a crucial stage in their lives.
You can extend the MOT to look at the family as a whole, helping your employees look at wider commitments and circumstances. Parents may be looking for a way to help their children get on the property ladder and now could be the ideal time to investigate their options.
By offering them the opportunity to take a mid-life MOT, you can help your staff make sure they're making the right choices.
If you want to learn more about our mid-life MOT programme, get in touch with your Aviva contact.
Take a mid-life MOT
 To help people in their 40s, 50s and 60s, we've created a 'mid-life MOT' app. "It's there to help people take control for themselves and empower themselves," says Alistair McQueen, Head of Savings and Retirement at Aviva. 
"The app contains 30 multiple-choice questions around wealth, work and wellbeing. Answering them results in an MOT score, not hugely dissimilar to a car MOT. Then, rather than leaving somebody hanging, it will give them five actions for each area.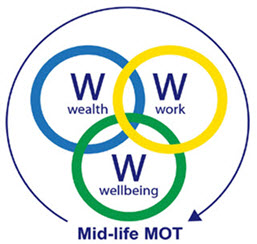 "It could have a one-off use, or be used annually. It's designed to help people challenge their thinking and open their eyes to the various sources of free help that are available."
The app is free and will launch in October. Alistair says: "It's not there to answer everything, instead it's designed to give a supportive nudge to help people move in the right direction."
So, why not encourage your mid-life employees to spend a few minutes carrying out their own mid-life MOT? They may well thank you for it, both now and in the future.
Available from both the Apple Store and Google Play, the Aviva Mid-life MOT app is free to download and simple to use. Mobile data charges may apply and the T&Cs can be viewed within the app.