Business resilience: the 6 factors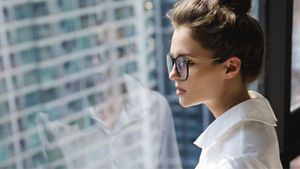 We all know what resilience means, but what does it mean for business? We surveyed 1,000 UK businesses to find out what it means to them.
The success of a business often depends on its ability to prepare for and adapt to change. Doing this – while continuing to achieve your targets and goals – comes down to one word: resilience.
Resilience may be one word, but it's isn't just one thing.  A resilient business is one which can overcome obstacles, meet evolving challenges and make the most of opportunities. In times of economic and political uncertainty, it's more important than ever that businesses should take a long, hard look at the issues that determine their resilience. In our survey, in association with the Centre for Economic Business Research, we looked at 6 factors that make up business resilience.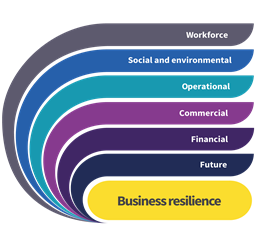 1. Workforce resilience
The people who work within a business are its most important asset – so protecting their individual wellbeing will drive its overall resilience. Staff turnover rates, hiring ability and reputation are all positively influenced by this.
Good people management is a key indicator of a business' workforce resilience – as is the way that it develops and manages talent. It's important to anticipate any future challenges by identifying any potential skills gaps, as well as carefully monitoring levels of employee engagement.
2. Social and environmental resilience
This hinges on the measures a business takes to ensure it has a positive impact on the communities and environments in which it operates.
Following ethical business practices and promoting environmental sustainability puts businesses in a position to meet the demands of customers who are increasingly aware of these considerations. It also helps protect them against the impact of potential future legislation.  Promoting diversity and inclusion within the workplace enables the business to benefit from fresh insights drawn from a wider variety of standpoints. It also enhances the reputation of the business as an inclusive employer.
3. Operational resilience
This is probably the most familiar of the six factors. It's all about the need to implement risk-managing procedures and contingency planning to protect against unexpected events.
The indicators of operational resilience include precautions against the effects of extreme weather and other physical risks, such as damage caused by fire or crime. It's equally important to examine the degree of preparedness for cyber attack or potential data breaches – but operational resilience doesn't end there. It also encompasses protection against less obvious risks, such as future regulatory change or unfavourable macroeconomic developments. And if a business is reliant upon suppliers, it should always consider the 'knock-on effect' which might result from those suppliers' own exposure to risks such as these.
4. Commercial resilience
A commercially resilient business makes good use of insights on how to retain existing clients and recruit new ones – including considerations such as gathering and making use of customer feedback and investing in sales and marketing.
Although good client management and an ability to inspire customer loyalty are central to this, it's also important to adopt a business strategy which recognises the need to avoid dependence on a small number of major clients.
5. Financial resilience
Maintaining a viable financial cushion to deal with future occurrences is the crux of this factor. It concerns the assets of the business, the reliability of its cashflow, and how easily it can access finance in times of need or opportunity. It's important to keep a close eye on top-line financial performance to assess the level of resilience in this area.
6. Future resilience
This is the means by which a business ensures it remains competitive in the future – taking into account societal change, technological advance and product development. Indicators of a future resilient business include prioritisation of product innovation and thought leadership, strategic flexibility and maintaining a clear long-term business vision.
You can read more about the six factors in our research report  UK Business Resilience: the state of the nation. This report provides a picture of the resilience of businesses in the UK and information on emerging trends.