4 ways SMEs can take the sting out of loneliness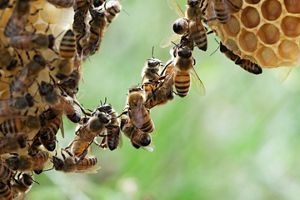 As SMEs busily grow their hive, are they too busy to notice the workers who may stray from loneliness? They may be, but here are four ways to bring the colony together.
You may take little notice as the determined, fuzzy flyers whiz past you in the upcoming months, but know that they're buzzing with purpose. These forager honeybees are on a mission to find, harvest and notify their fellow co-workers of nearby pollen and nectar
And they do so in harmony with the queen, nurse bees and male drones of their hive.[1]Footnote 1
That is, until an illness or being stuck in someone's home disconnects them from their hive —their home and society.
And while they may not have an existential crisis from such separation, when a sense of distance isolates us from our own hive, we may feel lonely.
According to The Mental Health Foundation, "Loneliness has been an important factor contributing to higher levels of distress, resulting from people's sense of isolation and reduced ability to connect with others."[2]Footnote 2
As the pace, place and perspectives of work shift within our own beehives, how do we grapple with loneliness and is it simply about being alone?
Alone or lonely at work
There is a big difference between being alone and feeling lonely. Being alone is that physical state where you are physically by yourself, whereas being lonely is an emotional state where you are feeling alone or are disconnected from others.

Dr Rob Rosa, Chief Medical Officer for Aviva
You may be sitting contentedly alone in your workspace, but connected in spirit and purpose with your co-workers. Conversely, you may be sitting in a meeting or staff room with smiling and chatty co-workers, but feeling invisible.

Defining loneliness in a purely physical capacity does it little justice; it echoes and reverberates around the foundations of your identity.
"It's those horrible feelings," says Dr Rosa, "around not being important to anyone, that nobody needs you, that you don't really exist.  … over time, these types of thoughts associated with loneliness can dramatically fester." [3]Footnote 3And although loneliness may have extrinsic catalysts, forces beyond our control, its origins are manifested internally through our emotions. 
Whether in a corporation or SME (small and medium enterprise), loneliness is a growing concern.
Chronic loneliness not only increases the risk of mental and physical ill health, but also premature mortality and health care use. To UK employers, the cost of loneliness is estimated to be £2.5 billion annually.[4]Footnote 4
Loneliness is a workplace mental health concern that may be as insidious as it is silent. Not only is it misunderstood, but it also hides in the quiet – behind darkened computer cameras and silenced microphones; behind the stigma attached and in the struggles within.      
SMEs, that may lack the time and resources of formal wellness programmes, may find it particularly challenging to identify and address loneliness. In a survey exploring the mental health awareness of over 1,000 managers, Aviva found that 44% of SME managers agree they were too busy to recognise when their team/employees are under pressure. Nearly half of the SME managers (48%) indicated that they struggle to manage their own mental health while looking after the mental health of their team.[5]Footnote 5

Yet, 77% of the managers received some form of training to help lead conversations about mental health and 68% agree that they are confident speaking to their employees about their mental health.[6]Footnote 6
This suggests that although managers may be trained to recognise mental health concerns and want to help, they may not have the capacity to do so.
And it suggests that no one in the hive is immune.
So, what happens when a bee is separated from its normal environment? There's a good chance of them entering another hive.[7]Footnote 7
If that connection is lost, before feelings of loneliness become chronic and another hive looks promising, how can small business leaders intervene?
4 ways SMEs can reduce loneliness in their hive
There are four time and finance conscious methods SMEs can apply to help reconnect with their wayward workers.
1. Check the queen – ensure the leadership isn't struggling, otherwise the whole hive can collapse.
Without the queen, none of the hive survives beyond a few weeks.[8]Footnote 8 For SMEs who have leadership teams under immense pressure to produce, and little time to waste, this means choosing a check-in system that makes sense with their pace of work. This could be a short coffee chat over video once per week or a longer session every fortnight.
The point is to schedule it regularly to connect over a cuppa and share a moment of levity in brevity.
2. Train the worker bees – nominate mental health champions.
Identifying mental health champions in the company, particularly in categories like loneliness, may be an impactful step to changing workplace wellness culture and stigma associated with certain topics.  These are champions who would be trained and may be delegated tasks to do within their sphere of influence.
Gathering information through annual surveys and focus groups, about the health and wellbeing issues most relevant to your employees, can become a powerful means to achieve target-specific training for your workplace champions.
3. Develop the hive – find a workplace with communal spaces and shared events.
As work spaces evolve between remote working and traditional office spaces, there is opportunity to develop interconnection. Guidance from the Department for Digital, Culture, Media & Sport acknowledge that "an awareness that co-working spaces can be lonelier than working alone due to the lack of shared culture or goals is important."[9]Footnote 9
This may mean hiring spaces for specific days of the month in a co-working space or, for those employees who require a quiet space to work for a few days, it may be offering to pay for a co-working pod. Providing opportunities to gather for lunch in the day, even to decompress, may also be a way to reduce loneliness.
4. Find the nectar – provide a range of resources, recognition, and opportunities to connect.
Creating a resource hub on relevant mental health concerns and loneliness, a space where all employees may access information in their own time, is essential. Dr Rosa explains that coming back from loneliness should be a slow and steady process, with gentle touch points, rather than one of immersive activities that could be overwhelming.[10]Footnote 10
Making the hive sweeter through recognition, awards programs, regular verbal acknowledgment and gratitude may also guide your wayward bees.
If you are an SME that would like to learn more about supporting the mental health of your employees, read our guide.