Transitioning to Net Zero: how Aviva is walking the walk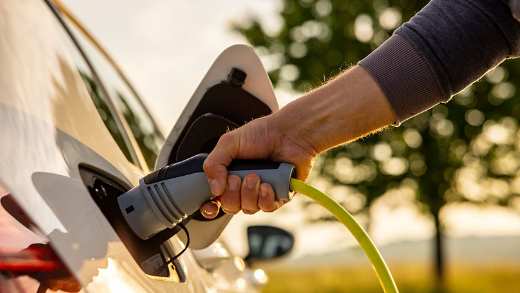 Actions speak louder than words. Here we outline how Aviva is currently tackling its Net Zero goals to help in the fight against climate change.
Of the four elements from classical history, fire has often acted as a sign that all's not well. With air, earth and water also under pressure, we outline how Aviva is currently tackling its Net Zero goals to help in the fight against climate change.
The Great Fire of London in September 1666 was a huge wake-up call for what was then one of the most important cities on the planet. The fire was one of the key reasons that the insurance industry as we know it today came into being. The 'Hand in Hand Fire and Life Insurance Company' – established in 1696 – eventually became Aviva. The wildfires that broke out near London and across the UK in July 2022 – ignited by temperatures of more than 40C – are another urgent distress signal.
Of course, it's one thing 'talking the talk' about the fire in a bakery in Pudding Lane and then 'walking the walk' by creating a business proposition – as Aviva's founders did – and another thing talking about rising temperatures, flooding and drought, and then actually doing something about it. In both cases – separated by more than three centuries – that's exactly what Aviva has done: we're walking the walk.
To recap, cutting greenhouse gas emissions to as close to zero as possible, with any remaining emissions re-absorbed from the atmosphere, by oceans and forests for instance. Global warming is proportional to cumulative CO2 emissions, so our planet will keep heating for as long as these emissions remain more than zero [1]Footnote 1. That's why we were the first major insurer to commit to being Net Zero by 2040, continuing our work to align our business to a 1.5ºC Paris Agreement  target.
Turning talk into action
By the end of 2021 Aviva had invested £7.6 billion in green assets. This includes £4.4 billion in low carbon infrastructure, such as wind farms and solar panels, £1.6 billion climate transition funds and £1.6 billion in green, social, and sustainable bonds as well as green and sustainability-linked loans.
By 2022 we'd stopped underwriting insurance for companies making more than 5% of their revenue from coal or unconventional fossil fuels. By 2023, we'd stopped investing in companies that derive a specific amount of revenue from fossil fuels or thermal coal, unless they'd signed up to science-based target initiatives. As a major UK workplace pension provider, we also aim to invest a further £10bn in assets in companies that emit less carbon, through holdings in our auto-enrolment default pension funds. 
Moving forward, by the end of 2025 we plan a 25% cut in the carbon intensity of our invested assets. Closer to home, we're aiming for 100% renewable electricity for all our offices, which total 230,231m2, combined with 100% electric/hybrid vehicle new leases for our 1,540-strong motor fleet. We realise that the pace and scale of change needs to relentless to halt climate change. Fast forward to 2031, and we're targeting a 60% cut in the carbon intensity of investments, combined with having Net Zero operations and a Net Zero supply chain. Our goal is to be a Net Zero company with Net Zero carbon investments. And it's the investment side of things where a great deal of activity is taking place. We actively work with key organisations in the belief that collaboration is an important and essential requirement for exercising appropriate influence with the companies we invest in.
With a little help from our friends
We're a founder member and active participant in many key UK and international investor networks. From farm animal welfare to climate change, these networks facilitate discussion and share information about environmental, social and governance matters. For example, Aviva Investors is a member of the Net Zero Asset Managers initiative (NZAM) and the Glasgow Financial Alliance for Net Zero (GFANZ) as part of the Race to Zero.
However, given that global efforts are currently aiming at achieving Net Zero by 2050, it's likely that in 2040 our operations, investments and insurance will still produce some residual emissions. In anticipation of this, we're looking to invest in carbon removal using nature-based solutions and potentially negative emissions technology to ensure Net Zero emissions. We've committed to invest £100m into nature-based solutions by 2030 as a first step. This effort will also fit with our broader and long-standing commitment to protect and enhance the planet's precious biodiversity as habitat loss and degradation sit at the nexus of both climate change and biodiversity loss.
Using the power of active investing
To deliver change in our customers' invested assets, we focus on three key actions: 'Vote', 'Divest' and 'Tilt'. This means using our voice and vote to pressure companies and directors to make changes; divesting and applying portfolio constraints for high carbon-emitting sectors; and tilting investments towards cleaner sectors, such as wind farms and solar energy businesses. As an active owner with scale and global reach, we use engagement, voting and investment decisions to drive the transition to a sustainable future by being lions, not lambs. 
In 2021 we  voted in favour of 91% of shareholder resolutions on climate and social issues. This is in the context of 2,959 company engagements and voting on 70,956 resolutions at 6,648 shareholder meetings. And people like what we're doing: In ShareAction's 2023 'Point of no returns' report, our dedicated asset manager Aviva Investors received an 'A' rating for its approach to responsible investment. The fund manager was one of only three managers out of 77 worldwide to be awarded this rating. We're also strong advocates of the need for listed companies to publish consistent information to inform better decisions and manage climate-related risks and opportunities to foster the transition to Net Zero.
We're also being held to account by publishing what we're doing. Our Climate Transition Plan sets out the steps we'll take to reduce emissions to Net Zero in our operations and supply chain by 2030, and in our investments and underwriting by 2040. Find out more about what we're doing here: Climate Transition Plan (PDF 3.5 MB).