What workplace benefits uncover about workforce sustainability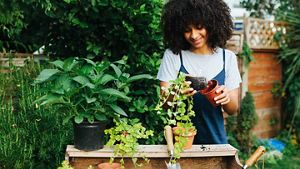 Knowing which workplace benefits nurture your current employees and cultivate the next generation may help your business flourish.
Across the UK, employees and job seekers may be searching for a company in which to plant their roots. Nearly 10 million employed people in Britain are actively job hunting each day and, as of Q1 2022, over 1 million economically active people are unemployed.[1]Footnote 1
On average, UK employees begin thinking about searching for a new job after 3.5 years and typically move jobs every 5 years. "The process," according to Andrew Fennell of StandOut CV, "begins mentally, as a passive job seeker, a good year and a half before an individual hands in their notice." [1]Footnote 1

This may be a single father side-eyeing the clock, calculating the minutes to his train's departure, while ushering his children out the door.  It may be a soon-to-be mother planning how to balance the exciting role of parenthood with her partner and parental leave. It could be a graduate student beginning their first job or an employee at the cusp of retirement, sitting on different ends of the retirement journey, imagining what their future will look like.  

It may be someone sitting across from you in your next meeting.

As the places, pressures and pace of work change with modern demands, insights on workplace benefits may show businesses what employees prioritise to help them flourish – inside and out of work.

And although we may think sustainability points to the world outside of business, it's also about our environment inside and out. You may measure the ecological impact of your business through its carbon footprint or supply chain emissions, for example, but it's also important to measure sustainability within your business through its most valuable resources – the people.

In a survey of over 2,000 employees and 500 employers from varying sized businesses, our research found that although workplace benefits are important to employees, salary and flexible working options top their priorities. [2]Footnote 2

And while employers largely recognise these preferences, there are noticeable differences between what employees want versus what you may think they want.  Imagine your business as its own ecosystem, this disconnect may impact on the sustainability of your employees – whether they remain a positive force in your workplace.

Recognising and, if relevant, addressing employee priorities may help balance (or rebalance) your business to support its growth.

Sustaining employees with (and through) time

Time, our most precious resource, is the commodity employees most want to control. Being able to work productively and purposefully in their job while having the time to nurture relationships, interests and responsibilities in their personal life may be equally important. Since caring for their own wellbeing (physical, emotional and mental) alongside those they love (children, elderly parents, and pets) is rooted in daily life, employees are searching for roles that fit their values.

The main reason employees chose their current role, and remain there, is for work-life balance (41%). And although work-life balance is a top consideration for men in accepting their role (34%), women prioritise it more than men (44%). This may suggest that women gravitate towards roles that provide more flexibility.

Employees identify salary (36%) as the second reason for choosing their current role and, seemingly in accordance with work-life balance priorities, location of the role (including parking and transport links) as the third (31%).

While workplace benefits packages and amount of pension contribution is important to employees, they're more interested in career progression (24%), the people and culture in the workplace (19%) and the company's reputation (18%).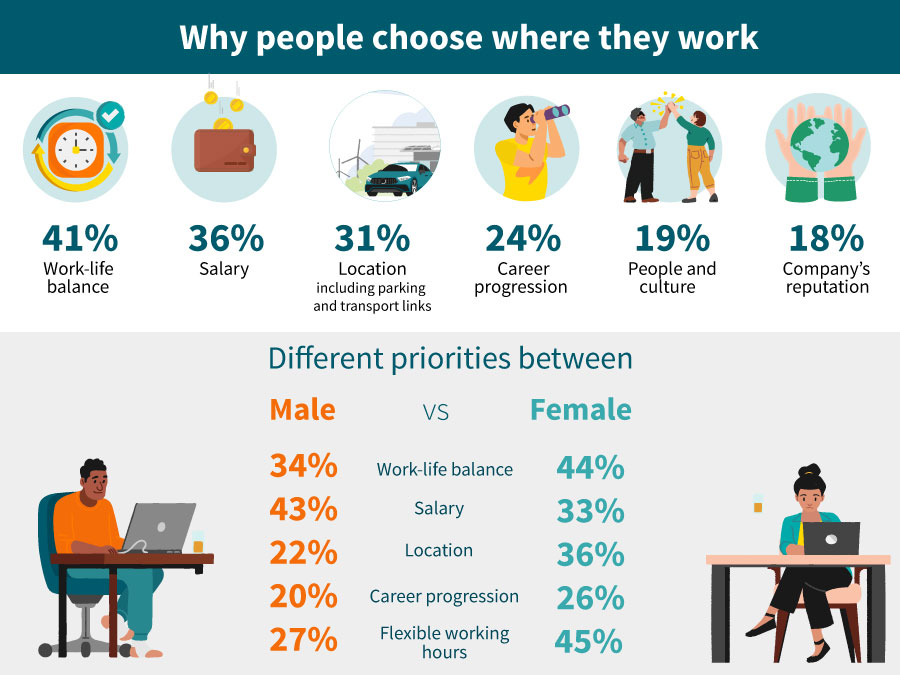 Asked why they think employees chose to work for them, employers said work-life balance as the leading reason (44%), followed by salary (42%) and the people/culture of the workplace in third place (32%). Although employees put location as third on their job wish list, employers believe it's one of the least important reasons employees came to work for them (23%). This disconnect may hint at some employers not recognising travel time in the scheme of work-life balance priorities.
Sustaining employees with psychological safety

Harvard Business School professor, Dr. Amy Edmondson, defines psychological safety as, "a belief that one will not be punished or humiliated for speaking up with ideas, questions, concerns or mistakes." [3]Footnote 3 

Whether planning a trip to see loved ones or recovering after an illness employees should feel safe with their employer. That their priorities outside of work, whether enjoying time with family and friends or investing in their own wellbeing, are also a priority for their employer. Worrying about whether they have a job or the same role when they return is counterproductive to how they choose to spend time off. 

And while employers believe that flexible working hours (49%), 22 to 35 days paid annual leave (40%) and pension schemes (36%) are the most attractive workplace benefits, employees' priorities prove otherwise.
For employees, 22 to 35 days paid annual leave leads workplace benefits (42%), followed closely by flexible working hours (39%), which includes working from home, and pension schemes (36%). And, again, while male employees certainly include flexible working hours within their top five (27%), women far outpace their male colleagues with this preference (45%).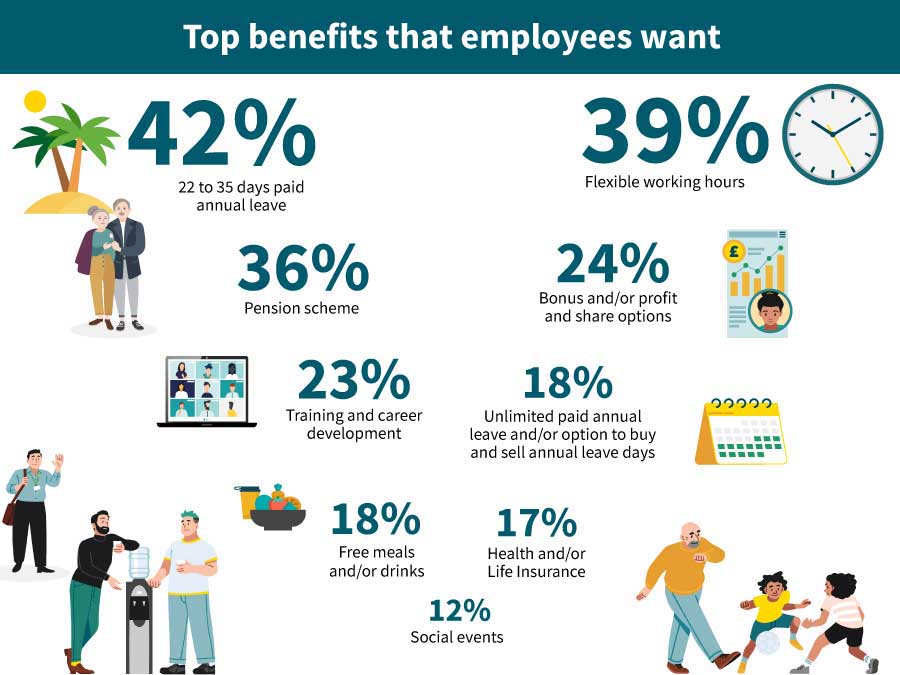 As employees think about the realities of work and home responsibilities, perhaps those with young families or those caring for elderly disabled parents, flexible working and parental leave options may ease the challenges posed by the logistics of life. This may be an opportunity for you to not only review business culture around supporting women's working preferences, but also investigate whether women feel safe to request changes in their working situations without jeopardizing career progression, pay increases or navigating negative stigma.

Helping employees to look after themselves and families may be one way to build trust and psychological safety.
Sustaining employees with wellness
When asked if they could choose any new workplace benefits that aren't currently on offer, employees and employers overwhelmingly agree that a wellness allowance (£400 to £1200 to spend on anything) would top their list. Half of employees and 45% of employers made it their number one option.

Duvet days, or an unscheduled day off taken with no notice given, and interest-free loans (for home improvements or weddings) were employees' next items on their workplace benefits wish list (37%). And while men and women largely opted for the interest-free loans to the same degree (24% versus 25%), women far preferred the duvet days over their male colleagues (28% versus 42%).

If they had to choose between an increase in salary or an improved workplace benefits package, however, it seems both employees and employers overwhelmingly favour a bump in salary (83% and 71% respectively). 

These preferences seemingly suggest that employees value autonomy – both in having the freedom to pay for their wellness, as they see fit, and in having the independence to take time for themselves as needed.

Based on the employers' survey responses, they get it.
Sustaining employees with relevant packages

Employees and employers differ most in their responses on workplace benefit uptake.

For employees, either nothing (24%), lack of information (22%) or lack of interest (21%) prevents them from using the workplace benefits on offer. Employers, however, believe that it's lack of interest (30%), the benefits offered aren't relevant to certain demographics (27%) or the cost to employees (25%) that prevent employees from using the benefits packages.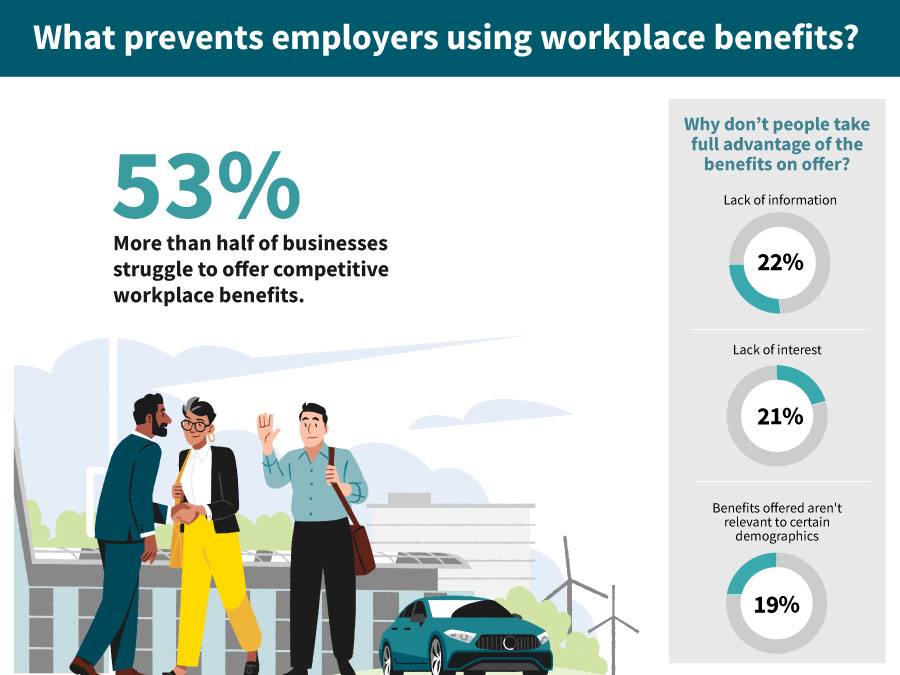 This may be a powerful area for development within your business. Giving your employees relevant, accurate and timely information on their workplace benefits through their preferred communication channels may encourage a stronger, happier workforce. When asked whether workplace benefits improve their overall happiness, 88% of employee respondents said 'yes', especially of graduate entry level positions and senior managers (both 93%).

It could be the case, however, that the current packages may need to evolve. 87% of employees want to see improvements in their workplace benefits offerings within the next 12 months. This seems particularly relevant to employees of SMEs (small to medium businesses) with 85% to 91% agreeing they'd like to see improvements. Of the employers surveyed, only 35% plan to make benefits improvements within the next 12 months.

Taking your employees' temperature on their benefits package, perhaps through a survey, may help inform improvements.

Sustaining employees proves challenging

More than half of businesses (53%) struggle to offer competitive workplace benefits, according to our survey. Nearly two thirds of SMEs (62%), sized between 50 and 249 employees, find it challenging.

The primary reason for the difficulty, as identified by 62% of these employers, is that the cost to implement the packages is too high. And more than one third (35%) of employers don't have the staff and resources to manage the implementation of competitive benefits.

The most striking insight from our survey isn't that employees least prioritise dogs in the office as a workplace benefit (how dare they, say all dog lovers). It's that employers largely understand what their employees want and need, they just may not be able to provide it yet.

Sustainability in business is more than thinking about the environment outside the office doors. It's also about the environment within the office and whether or how it sustains the workforce long term.