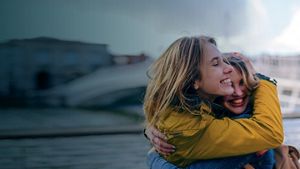 Aviva Digicare+ Workplace
Looking after the heart of your business
Putting health and wellbeing at employees' fingertips
Aviva DigiCare+ Workplace gives employees a single point of access for the guidance and care they need to help detect, manage and prevent physical and mental health problems.
Employees access services - including a comprehensive self-administered health check - via a beautifully simple smartphone app.

Included with our Group Income Protection and Group Critical Illness policies, the app's benefits are provided by Square Health.

These are non-contractual benefits which Aviva can withdraw at any time. Terms and conditions apply, which can be viewed in the app. Employees will need to agree to these before using the services. Personal data is collected and used in accordance with the Square Health privacy policy

Aviva DigiCare+ Workplace
Watch our short video to find out how the Aviva DigiCare+ Workplace app can put valuable health and wellbeing benefits at employees' fingertips.
This video is suitable for financial adviser and employer use.

Aviva DigiCare+ Workplace is included with these policies:
Group Income Protection

Group Critical Illness
What are the benefits?
For you
Supports a wellbeing agenda
Could help reduce sickness absence/presenteeism
Could help improve the health and wellbeing of your workforce
Helps your business stand out from the crowd, attract and retain talent
For your employees
Helps with early detection of health-related issues
Easy to access, flexible health benefits
Helps prevent future problems - with intervention when needed
Supports employees' immediate families as well as themselves
What key services are available?
Health Check
Health Check is a major benefit of Aviva DigiCare+ Workplace. It's easy to take and it can help beat health worries as well as spotting problems before they become more serious. Employees can take one annual health assessment through a pin-prick blood test. It's a simple self-administered finger prick test they can take in the comfort of their own home. This quick test checks 20 different health markers to spot problems early on. It covers issues like the risk of diabetes, cholesterol status and liver health.
They then receive a personalised health report and recommended course of action. If needed, they can then book a consultation with a Digital GP to discuss the results. By taking this simple test once a year, your they can keep on top of their health, detect issues early and maybe help prevent certain health problems.
The Health Check is available to employees insured under a Group Income Protection or Group Critical Illness policy.
Benefits at a glance
Detect early risk warnings and signs
Enables early intervention
Convenient and easy to do at home
Helps employees pro-actively manage their health
---
Digital GP
It's not always easy or convenient to get to the doctors' surgery. Digital GP offers a video appointment with a doctor without having to wait for a face-to-face appointment. It could mean an appointment in hours rather than days - and employees can use the service 8am - 8pm, 7 days a week.
Designed to complement existing NHS treatment, the Digital GP is a private doctor service offering your employees and their immediate families access to clinical advice and guidance in non-emergency situations. It offers the peace of mind of being able to speak to a doctor quickly.
An employee can use the service to arrange up to three sessions in any policy year, which they can share with their immediate family. 
A video appointment could lead to a prescription, a fit note, recommendation or referral for specialist treatment. For follow-up appointments, there's the option to select the same GP from the original appointment. There's no extra cost for the appointment, but prescriptions, fit notes and referrals will incur a cost.

Benefits at a glance
Quick and easy to use - with fast access to medical advice
Wide selection of GPs available – the employee can choose by medical specialism

Ability to view GP biographies before booking a consultation
The GP has access to other medical professionals with complementary specialisms

---
Second Medical Opinion
A medical diagnosis can come as a shock. It's easy to forget to ask important questions, and people might be left wondering whether other medical professionals might come to different conclusions.
The Second Medical Opinion service offers employees and their immediate families the support they need in situations like these. Employees have access to two second medical opinions each policy year, which can be shared with their immediate families.

It offers access to a network of UK-based clinicians, covering all physical and mental health conditions.

After answering questions in-app, the patient is matched to the most suitable UK-based specialist to give their medical opinion. All are experts in their fields and can bring fresh insight to bear on a diagnosis. 

It's not about distrust. Consulting another professional gives the employee that chance to digest their diagnosis, ask questions and more fully understand their illness, helping them to embrace their chosen treatment pathway.
Please note that Square Health cover the costs for the consultation and the report only. The patient must cover any travel costs and costs for any treatment they decide to go ahead with following the second medical opinion, as these are not part of the service.
Benefits at a glance
Access to an expert second opinion

The employee could benefit from new information, an alternative diagnosis or recommended treatment plan
The service covers all conditions, including mental health
---
Mental Health Consultation
More and more people now recognise that looking after mental health is just as important as taking care of our physical condition. This is true within the workplace as much as any other walk of life. Mental and physical health can be closely linked so looking after one can have a positive impact on the other. 
This completely confidential, support service offers quick access to tailored mental health advice from qualified therapists. 

It can bring help with workplace stress, money worries, family conflict, divorce and other big changes in life.

It can also help with a variety of other issues, including events related to family history, post-partum depression and post-traumatic stress disorder. In addition the insured life and eligible family members also have access to an additional six sessions for bereavement for family members.
Your employees are entitled to six sessions a year, and these can be shared between the employee and their immediate family. Appointments are available 8am - 7pm Monday to Friday, and 9am - 1pm on Saturdays. The Mental Health Consultation, which includes the bereavement service, is available to employees insured under Group Critical Illness or Group Income Protection, their spouse or partner and children from age 16 up to age 18, or 21 if in full time education.
Benefits at a glance
Help prevent and detect issues so they can be treated before they lead to more serious problems

No need to wait for a referral through the NHS, allowing earlier intervention
Convenient – have a consultation at home or another safe place
Completely confidential
---
Nutritional Consultation
Making good nutritional choices helps with physical fitness – but that's not all. A healthy relationship with food can also preserve mental health and prevent problems further down the line. 
At a time when many employers are becoming more focused on physical and mental wellbeing, the Nutrition Consultation service can offer tailored advice delivered by experts in the field.

It doesn't just tell people what foods are good for them. It provides lifestyle support, including consultations with qualified nutritionists.

They'll provide advice on optimal eating plans and how to break any bad habits - while still enjoying tasty and appealing meals. Employees can take up to six consultations a year, which they can choose to share with members of their immediate family.
The Nutritional Consultation service is available to employees insured under Group Critical Illness or Group Income Protection, their spouse or partner and children from age 12 up to the age of 18, or 21 if in full time education.
Benefits at a glance
Helps reset relationships with food
Encourages people to understand the importance of gut health on their general wellbeing
Encourages accountability in food choices, helping with weight loss and boosting energy
Tailored to the person's life stage, helping them adapt their diet as their circumstances change
How to apply
If you'd like to offer Aviva DigiCare+ Workplace to your employees, or if you have any questions, please speak to your financial adviser. Or, simply get in touch with your Aviva Group Protection account manager if you have one.
Please note, we are currently unable to offer direct new business quotes for Group Critical Illness, Group Income Protection and Aviva Flex-pertise™. We can offer Group Life insurance quotes direct.
Still need help? Give us a call:
Monday to Friday: 9:00am to 5:00am
Email us: digicare@aviva.com
For our joint protection, telephone calls may be recorded and/or monitored and will be saved for a minimum of five years. Calls to 0800 numbers from the UK landlines and mobiles are free.