What is My Future Focus?
My Future Focus is our flagship default solution, aimed at customers who want that bit more from their pension. It invests in a broad range of asset classes, including overseas and UK equities, as well as emerging market equities and bonds, high yield bonds and UK commercial property to provide the benefits of diversification.
Managing volatility through the retirement journey
A key feature of the solution is how we manage volatility throughout the retirement journey. This means that My Future Focus mainly invests in riskier assets in the 'growth' stage of the retirement journey, with the aim of helping customers to grow the size of their pension savings. Then as customers get closer to retirement, the amount of money invested in riskier assets is reduced in order to provide stability in customers' savings. No matter where customers are in their retirement journey both risk management and diversification play a key role in My Future Focus.
Our dedicated investment manager Aviva Investors
My Future Focus is managed by Aviva Investors, our dedicated fund manager. Read more about Aviva Investors below. The investment team at Aviva Investors can invest with conviction, using tactical asset allocation to express their views on what's happening in markets and where they see value. We explain this in more detail below.

Designed to provide choice for customers in terms of how they take their savings
With My Future Focus, customers have choice in terms of how they can take their pension savings; to prepare for the purchase of an annuity, to take a cash lump sum or to draw down an income. Alternatively, customers can stay invested in the 'Universal' strategy if they have not yet decided how to take their pension savings. Read more about how this works in the My Future Focus investment guide.
We care about our customers and also the planet and the world we live in. ESG - environmental, social and governance factors are fully integrated into My Future Focus. Learn more about this below.
The value of a pension can go down as well as up, so employees could get back less than has been paid in.
Why Choose us?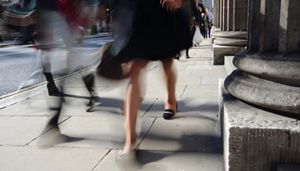 Strong governance
Governance plays a key role in the management of My Future Focus. We need to be sure that the funds, which make up the solution, are performing as expected and if not understand why and what can be done to improve performance.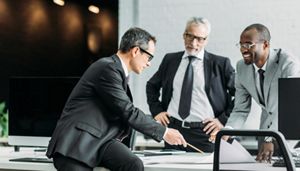 An integrated investment approach
Aviva Investors is a global asset manager with expertise in real estate, fixed interest, equity, multi-asset and alternative investments. The investment intelligence of the business spans major markets where the firm had £223bn in assets under management as at 31 December 2022. This gives Aviva Investors the size and scale to successfully seek out investment opportunities with the aim of delivering specific outcomes for our customers.
Tactical Asset Management in My Future Focus
We look at the My Future Focus strategy from a strategic asset allocation perspective to ensure the funds meet their long-term objectives. The solution also benefits from tactical asset allocation where Aviva Investors regularly assesses the market and makes changes to the asset allocation to exploit short-term investment opportunities. Investing dynamically was key in helping reduce losses from My Future Focus in the heavy falls in markets in 2022, and therefore to manage risk in one of the most challenging periods on record for multi-asset funds, and therefore default pension funds.
Responsible investment
Our commitment to responsible investment, as reflected by Aviva's 50-year history in this space, our ambition to be a net zero business by 2040, and the significant resources that we devote to responsible investment, runs throughout My Future Focus. We believe that as an investor in businesses across the world and as a major pension provider, we have a duty to build on our track record as a responsible investor and to use our resources and know-how to try to deliver long-term sustainable returns for our customers. We also believe that as a steward of people's money, we have a responsibility to act on the issues facing the world today from fighting climate change to tackling gender inequality. That's why responsible investment is fully integrated across My Future Focus.
A dedicated inhouse team of more than 30 responsible investment analysts sits at the heart of the My Future Focus responsible investment story. The analysts' research and insight into environmental, social and governance (ESG) matters feeds into the My Future Focus investment team, helping to shape investment decisions, voting and engagement. This research feeds directly into the actively managed funds in My Future Focus.
Meanwhile, the regional equity funds are optimised to have a higher ESG score than their respective benchmarks, combined with a carbon intensity reduction pathway that targets the annual reduction in carbon intensity required to meet Aviva's net zero ambitions (cutting carbon intensity by 25% by 2025, by 60% by 2030 and net zero by 2040). Whilst we are working towards our Net Zero buy 2040 ambition, we acknowledge that we have relationships with businesses and existing assets that may be associated with significant emissions. Discover more about how we are acting on climate change.

Exclusions are also used in My Future Focus; the solution does not invest in companies and sectors that generate prescribed levels of revenue from controversial weapons and civilian firearms; those involved in unconventional fossil fuels (arctic oil, oil sands); tobacco producers and distributors; thermal coal; and UN Global Compact violators.
My Future Focus video
Here's an overview of the My Future Focus solution and our approach to responsible investing.
Transcript
My Future Focus video transcript
Our planet and the world that future generations will inherit is in serious danger.
As a major pension provider, we have a responsibility to join the fight against climate change. That's because we can use our voice as a major shareholder in thousands of businesses to shape the future of our world.
We'll ask companies to do their best for the environment. We want to see clear evidence of this and will ask them to provide a roadmap to net zero.
In April last year we announced our goal to be a net zero business by 2040. This is a serious ask and the first by a global insurer.
Our default solution My Future Focus is fully aligned with these ambitions. 
More than 30 ESG analysts sit at the heart of My Future Focus. They research environmental, social and governance themes, like climate change and diversity, and then assess how well companies are managing their ESG risks and opportunities, and whether they can create value for investors over the long term. 
This research is used to give every company in the investment universe a proprietary ESG score, which helps to shape investment and voting decisions. 
My Future Focus contains both actively managed and tracker funds. Data from our ESG team feeds straight into the actively managed funds, while the index tracker funds are optimised to score higher in ESG terms than their respective benchmarks. We've then combined this with carbon intensity reductions.
This is intended to help meet Aviva's net zero ambitions. 
My Future Focus then goes further by avoiding companies or sectors that derive certain amounts of revenue from controversial weapons, those involved in unconventional fossil fuels, tobacco producers, or thermal coal.
Companies that violate the UN's Global Compact Initiative, a benchmark for companies and human rights, are also excluded. 
On human rights, it's not just the environment where we want our investments to make a difference, it's also about looking at how companies treat their staff and customers, what their diversity roadmap looks like, and if necessary, encouraging firms to do better.
Excluding businesses because they're in certain industries or don't meet certain standards isn't our preferred way of doing things; we prefer to work with businesses to help drive positive change.
That's why we engage with businesses on a range of issues alongside climate change, such as leadership board diversity and executive pay.
The figures speak for themselves. Last year our engagement work led to almost 300 engagement wins, where our input helped create positive change.
Strength comes in numbers. To drive change we'll join forces with other asset managers, the government, charities and NGOs. Ahead of COP 26, for example, we worked with several organisations, advocating the creation of an International Platform for Climate so that the financial system can be used to support climate goals. 
Responsible investment is across every aspect of My Future Focus, from our ESG team, to the optimisation of the passive regional equity funds, through to the alignment of our solution with our net zero target. 
Being an investor in businesses all over the world is about striving for more from ourselves, the industry and from other businesses and governments. We'll continue to strive for more for the sake of the planet and our customers.
Meet the My Future Focus investment team
The My Future Focus funds are managed by the Multi-Asset Funds team at Aviva Investors, Aviva's dedicated asset manager. Read more about the key members of the team below.