The changing face of financial education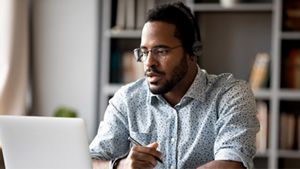 With face-to-face seminars impossible at the moment, Chris Allen, explains how our financial education team have successfully moved online.
In the past, we've often faced challenges when organising our financial education presentations, workshops and seminars. So many times, customers have said, 'Can we do this face to face?' or 'We don't do video conferencing.'
Midway through 2020 and the world is now a very different place compared to the beginning of this year, so not surprisingly attitudes to online education are changing.

Over the last four months, our proposition has not only adapted to the challenges but also proved it's possible to provide quality financial education online. In fact, in many instances, we've shown online education can achieve better results and greater engagement than face to face sessions.
Start with great promotion and effective booking
It sounds simple but engaging promotional material and a straightforward booking process really does make a significant difference in getting 'bums on seats'. 
People won't sign up for a course where they can't see the benefits. With that in mind, a clear understanding of what the session will cover, when it will take place and how long it will last is a must.

It's crucial to back this up with a simple registration process. It should confirm the booking and explain both how to add events to a calendar and how to change a booking. Combine this with timely reminders and you'll find you have high attendance levels, often more so than equivalent face-to-face sessions.
Manage expectations
With most of us working from home, it's common to experience interruptions during online meetings. Relying on domestic broadband can be an issue for presenter and attendee alike.
Because of this, it's a good idea to manage participant expectations around timings and unforeseen technical issues. An easy way to do this is to let them know you can send them the recorded call if their broadband drops out partway through.

To help keep the session working smoothly, at the start it's worth muting lines, shutting down video access and stopping a participant's ability to unwittingly attempt to take control of a presentation. You just need to tell attendees you've done this and why.

You can also keep engagement high and make sure your audience can still ask questions by using the online chat or Q&A facility. With smaller, more manageable audiences, it's also good practice to unmute lines periodically to encourage further engagement.
Follow up quickly and concisely
Providing follow up materials after a session has ended, is key to encouraging ongoing engagement. Participants are much more likely to take some action when the information is fresh in the minds. Sending a follow up communication that lands in their inbox as the session is ending can be of real value.
Since we began operating exclusively online, we've found participants are much more likely to complete a survey straight after the session. We've also seen logins to our online systems increase.
The results speak for themselves
Initially, as the country tried to come to terms with lockdown, presentations on workplace savings slipped to the bottom of the pile of people's priorities. However, engagement levels since mid-April have rebounded astoundingly.
When comparing our mid-year activity figures with 2019, we've seen an increase in attendance levels of around 20%. Feedback for our digital sessions has been positive, with attendees clearly approving of the end-to-end process, from booking a place to the online delivery of the content.
What next…
Both the ability and the willingness to hold financial education sessions remotely have fundamentally shifted since the start of 2020.
The success of our online presentations, seminars and workshops suggest we shouldn't simply return to the status quo, even when safety would allow us.

Our online sessions have proved remarkably efficient and effective. That begs the question: why would we go back to face to face? There may be occasions where face to face is the only solution, but this should be the exception rather than the norm.

The evidence suggests online is the way to go – attendance levels are up, average numbers of attendance per session have almost doubled, and engagement with members is on the rise.

The case for going online becomes even more compelling when you consider the benefits of less travel, lower costs and less hassle arranging logistics.

The age of the live online seminar is upon us and we are firmly onboard.

Chris Allen, Financial Education Executive Team Manager, within Workplace Savings and Retirement, specialises in member engagement. He has over 20 years of experience in Financial Services, with the last 13 years focused on financial education and employee communications.