Financial wellbeing in the age of COVID-19: how you can help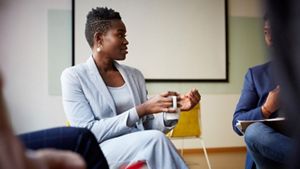 Employees' financial wellbeing has always mattered. Now the pandemic has raised more questions than ever, what can employers do to help?
Over the last year, financial wellbeing has become more important to employees. But the term itself can be a little misleading: this form of wellbeing isn't necessarily about how much money you have in your pocket – it's about feeling in control and having a level of certainty about the future.
As an employer, it can feel challenging to offer the right support at the right time. The pandemic has raised many questions when it comes to individuals' finances.

Financial wellbeing priorities may be changing for many, in tune with the unusual times we're all experiencing. But one thing that hasn't changed is the ongoing concern about retirement that many employees feel. How much will they need to save, when will they be able to retire, and what will retirement look like? Indeed, a period of enforced restriction may have caused some to think more deeply about retirement and whether they will be able to do the things they want in the years after work.

This is one area of financial wellbeing that employers can easily help with.

While a record number of people are saving in workplace pensions, our report Embracing the Age of Ambiguity (PDF 9.2 MB) showed that less than a third (28%) [1]Footnote 1 feel aware how much they need to save to fund the lifestyle they want in retirement.
During 2020, we saw that employees and members were continuing to engage with their pensions. The questions they were asking largely related to the same areas of uncertainty which concerned them before the pandemic. That said, we did encounter a number of specific queries relating to the issues surrounding the pandemic.
To help employers deal with these, we've answered three of the most commonly asked questions below:
Has there been any significant change to workplace pension regulation during the pandemic?
No. The core rules overseeing workplace pensions haven't changed in the wake of the pandemic. Today, all employers must provide their employees with a workplace pension, and they must automatically enrol all eligible employees into it.


Can employers or employees increase, reduce, or stop pension contributions during the pandemic?
Yes. As before the pandemic, most employees can continue to increase, decrease or stop their workplace pension contributions. Any changes, however, should be carefully considered before they're implemented. A decision to reduce or stop contributing to a workplace pension is likely to also mean a reduction or stopping of contributions from the employer. This could have detrimental implications for employees' retirement plans, as less saving is likely to mean less income in retirement. Anyone wanting to read more about this can find information on our help and support page.


Can employees access their pension savings during the pandemic?
It depends on their age. Unlike the state pension, workplace pensions can typically be accessed from age 55. Employees should view any suggestion that they can access workplace pensions before age 55 with great suspicion, as this could be a sign of a pension scam. If you have employees who are considering accessing their pension, it's important that they should take time to consider their options carefully.

We'd also recommend that employees should get financial advice before making a decision. Anyone considering ways to access a pension should also contact Pension Wise, a government-backed agency. Their free guidance service will outline the key points to be considered before acting.
Help your employees learn more about managing their finances
By providing employees with clear and easy-to-access information, you can help them better understand what's available to them and get to grips with the choices they need to make. This kind of assistance can also add to their motivation and further enhance your own standing as a responsible and caring employer.
It's also true to say that offering accurate information needn't put too much of a burden on your own time or resources. The provider of your workplace pension – or the scheme's trustees – should be able to work with you to produce and distribute useful and engaging material for your employees. Many providers now offer online access to make it easier for scheme members to manage their pensions, with tools designed to help them better understand the impacts of any changes they may choose to make.
All of this can make a big difference to the financial wellbeing of your employees. Feeling a greater sense of control over the future can have a strongly positive effect on quality of life right now… no matter how challenging the present may be.