How could giving away a few apples make a difference?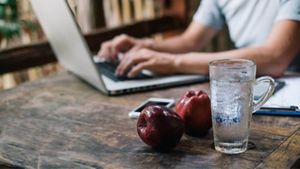 Debbie Bullock, Aviva UK Wellbeing Lead, explains why healthy eating initiatives add up to more than the sum of their parts.
It's fair to say that the immediate benefits of healthy eating initiatives to you as an employer aren't abundantly clear. Especially the initiatives which focus on giving away fruit and vegetables.

And there's already so much advice out there on healthy eating. So, yes, you can expect to hear things like:
"It's just an apple, right? They don't really keep the doctor away, so I hardly think they're going to transform the health of our workforce."
This type of thinking clearly looms large in the minds of employers who don't yet offer free healthy snacks. In fact, only a fifth of employers [1]Footnote 1 are currently providing their employees with this benefit.
And even I have to admit that, in a sense, they aren't too far wide of the mark. Because occasional giveaways of fresh fruit or vegetables wouldn't be enough to make a significant difference to the health of the people who decide to take them. But you certainly can make a difference by using this opportunity in a considered manner, as part of a wider wellbeing programme.

It was an activity in our York office that really showed me how much good initiatives like this can do. We created a '4 veg challenge', and put out some boxes of fresh produce, then encouraged everyone to take home four different items each and cook a meal using all of them. We then held a competition to judge the best recipe.
Someone would pick up an aubergine and ask, "What do you do with that, then?" You'd hear someone else say "I don't like cabbage"…and another colleague would answer "Have you tried stir-frying it?" "Cauliflower's boring"… "Not if you put it in a curry" and so on. People were swapping ideas and getting each other to try healthy foods that they didn't normally eat.

How employee wellbeing leads to business resilience
The reason why initiatives like this punch beyond their weight is down to the knock-on effect of promoting employee wellbeing and the positive impact that has on the business as a whole. Resilient businesses are built from resilient individuals.

But there is no 'one size fits all' solution to the task of building personal resilience amongst employees. At Aviva, we recognise that people change, and so do their needs – so we constantly review the way we encourage colleagues to think about nutrition and the impact it has on their wellbeing and resilience. Our Wellbeing@Aviva programme is already tailored to meet the different needs of our individual sites across the UK. To do this, we rely on invaluable insight from our Health Heroes (wellbeing champions) who work in those sites. 

As a result of their feedback,  we're looking to trial a new approach in some of our locations. This will involve switching from offering once-monthly free fruit to making discounted fruit available in our cafés. We want to understand if this will encourage more regular healthy snacking, when compared to the 'giveaway' option which increased interaction and acted as a communication and education trigger. We'll be looking at ways to measure which approach delivers the better outcome in terms of employee wellbeing.

Our trial demonstrates the need to consider the impact of any ongoing element of your wellbeing strategy and programme. It's important to keep checking that it's delivering against the objectives you set, and not being maintained because 'we've always done it this way'. Is the free fruit making a demonstrable change in your employees' overall wellbeing, or has it just become the norm? Would your budget make a bigger difference to the resilience of your workforce if it was used on something else?

But whatever you decide to do, remember, it's not just an apple, or an aubergine. It's a prompt to start people thinking about healthier lifestyles, which in turn can reduce potential future reasons for absence… so you can get a more resilient business, as well as adding a bit of a buzz to the workplace and spreading some goodwill.